End of Semester Stuff
Late Assignments

ALL Late assignments you wish to turn in to Prof Kohn must be received no later than 3pm on Dec 7.

Assignments over two weeks late will NOT be accepted. Those less than two weeks late will be penalized 1.5% per day late.

Assignments already submitted and/or graded will not be accepted (no resubmissions).


---
Extra Credit
Please check the
Fall 2016 Extra Credit List
and report any errors or omisions ASAP. (Please note - E-Day for Dr Berriso has
yet to be entered on the sheet.
has now been entered).

Added TECH4943 Presentation grading (for all my classes EXCEPT TECH4943). Also if you are wondering, the highlighted cells are formulas (students in more than one of my classes) and the ones with crossed lines means extra credit does not apply for that class.
One hour of Extra credit time will be given to all students in a given class if 90% of the class completes the SETE for the course by the time SETE's close (see next post for instructions).
This list will be used to calculate the applicable extra credit for Prof Kohn's Classes (keeping in mind the course policy for each class).
Gradewatch
I have started to fill in the calculations for the end of semester grades. The letter grade is MEANINGLESS until all grades are in (the formula is just to big to erase). The "ALL" row is your current grade, but keep in mind that all grades are NOT in (exam, projects etc) and is NOT out of 100. All formulas have yet to be verified and extra credit is yet to be applied.
---
Fall 2016 Class Evaluations
Students, you may now evaluate your Full Session Fall 2016 course instructors. Please take a few moments to do so by following the directions below. The site is now open and will close at Midnight on Dec 8. Complete your course evaluations (SETE) and see your grades early!

Once your instructor has posted your grade, you can immediately see that grade, PROVIDED you completed a teacher evaluation for that class.

How to access your evaluation forms:

1. Open any internet browser
2. Type in my.memphis.edu and log in using your UUID and email password
3. Click on the gray "Student" tab
4. Complete an evaluation for each course listed and hit the "Submit" button at the bottom of the form

If you have any questions or need assistance in completing the evaluation forms, contact the HelpDesk at 678-8888 or helpdesk.memphis.edu.


---
Scholarship Opportunities - Tiger Scholarship Manager
Tiger Scholarship Manager Application has opened for the 2017-2018 school year. The online application allows all undergraduate, graduate, admitted freshmen, and admitted transfer students to apply for scholarships in a centralized location. The deadline is February 3, 2017.

You are encouraged to apply for the available private and departmental scholarships. Information on how and where you can apply can be found on www.memphis.edu/scholarships. If you have any questions please call the Scholarship office at 901-678-3213, or email them at scholarships@memphis.edu.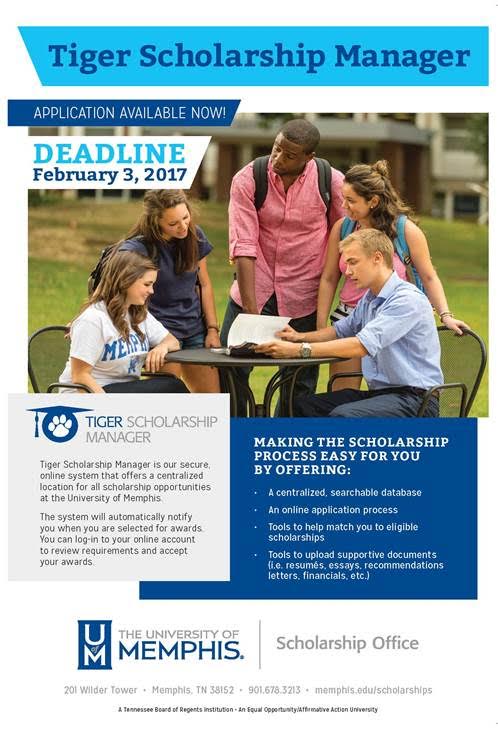 ---
Helpful Video Tutorials for Electronics Students
What to learn about Breadboards, soldering or basic electronic components you will be using in Eng Tech? Check out these tutorials from Arrow Electronics.


---
Peer Tutoring
Once again Herff College is offering peer tutoring for our undergraduate students.

Attached is the Fall Tutoring schedule for you (click button below). We have a couple of new things this year.

1) Every student will need to swipe their university ID for check-in and check-out at tutoring. Tutoring is still FREE, but this will allow us to see how many students are using the free tutoring and make sure we are providing the best service possible.

2) Tutoring now has a new home. ALL tutoring will take place in ET236. This means the tutors won't be kicked out of the room due to scheduling conflicts. Also, this room is open for anyone to use through out the day for students to study in groups, use computers, and printing.


---
Tau Alpha Pi
On Friday Apr 29, we reactivated the National Honor Society for Engineering Technology - Tau Alpha Pi at the University of Memphis with our induction of this semester's honorees. These students represent the upper 10% of all Engineering Technology Students.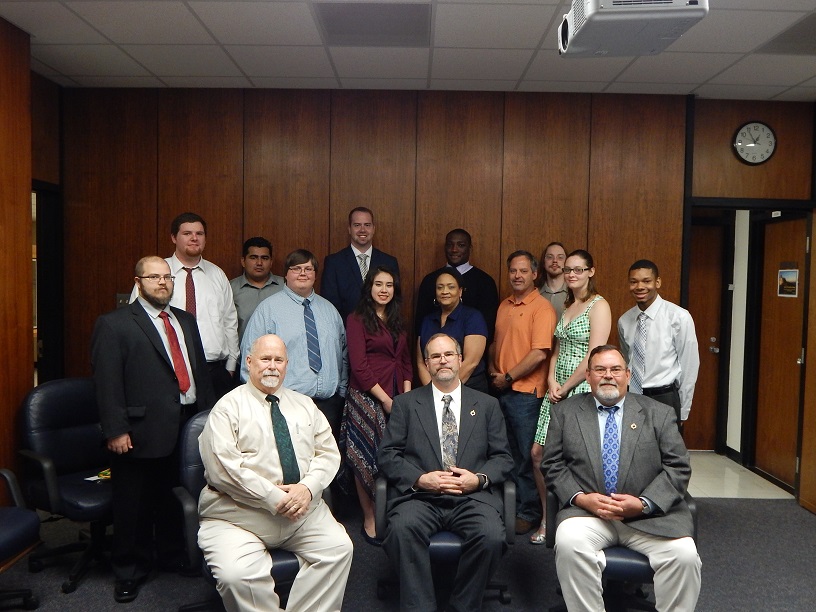 Shawn Westcott, Patrick Rhodes, Ajejandro Duarte, Matthew Kossan, Jackson Greer, Kimberle Solano, Tarolyn Moman, Jordan Greene, Curtis Sines, Nathaniel Hall, Marlene Meredith, and Antwan Gordon. Out front are the faculty, Professors Tom Banning, Daniel Kohn, and Scott Southall.
Congraduations TAP Honorees!
---
Free Microsoft Software!
The University of Memphis has joined Microsoft's "Student Advantage Program". Students, Faculty and Staff can now obtain the Office suite for their personal devices free of charge. This includes all desktops and mobile devices ( Windows, Mac, iOS, Android).

The program includes free access to Microsoft's OneDrive (cloud storage) with a quota of 1 TB.

Please go to http://Memphis.edu/getoffice and logon using your credentials to install the software.

Need something else

The University of Memphis is also participating in Microsoft DreamSpark. This gives you access to Microsoft Windows Operating Systems (10, 8.1, 8, 7) as well as other programs such as Visual Studio, Project and Visio. Go to DreamSpark HERE and select "DreamSpark for Academic Institutions - Access your subscription - Learn More" and type in "University of Memphis" into the search.


---
Senior Project Equipment
Do you know what you want to do for senior projects but don't have the equipment or money to buy it? I have acquired many items over the years that can be used for EETH and CETH senior projects (see link below).

I also have a number of computers that can be used by students for senior projects in ET227a for your use in case you need software not installed on the image in the computer labs, or you need Linux or another OS.


---