End of Semester Grading #2
All grades are calculated and available on gradewatch.

Logged Extra credit (for Prof Kohn's Classes) can be found here. Please remember that extra credit does NOT apply if you did not get a 70% or better in the class.


---
End of Semester Grading
I am working on getting grading done. TECH 1010 and TECH 3821 have been updated with end of semester project grades. Still working on TECH 3232 and TECH 4945 grading.

Extra credit has NOT been posted yet and probably will not be until Sunday.

Other than pre-arrange late work, I am no longer accepting late assignments.


---
Herff College of Engineering Completion Scholarships
The Herff College of Engineering wants to announce the availability of scholarships in financial need that are designed to help students graduate. The scholarships are designed to support students who have demonstrated the ability to be successful in college and are making progress toward a degree but need additional financial resources to complete their degree. To be eligible for this scholarship, a student must be within 45 hours of graduation, demonstrate financial need as determined on the FASFA, be registered as a full-time student and maintain a 2.8 or above GPA.

If you are interested in this scholarship, send an email to Dr Deaton (Associate Dean for Academic Affairs and Administration) at rjdeaton@memphis.edu expressing your interest by December 20, 2018. I know this is short notice but we want to make some awards in the Spring. In that email, if you can include your FAFSA information, it would expedite the process. Also, estimate your financial need for the Spring.
---
Southern Avenue to be CLOSED Over Break
Section of Southern Avenue to be CLOSED from Friday, December 14 – Sunday December 23

As you have probably noticed, significant progress continues to be made on the new, general-access parking garage on Southern Avenue and the pedestrian bridge across Southern and Walker. We have been notified by Flintco, the general contractor, that additional action is now necessary that will affect vehicular traffic on Southern Avenue.

Beginning this Friday, December 14th, through Sunday, December 23rd, Southern Avenue will be closed to vehicular traffic between Houston Street and Goodman Street to complete the buildup of the parking garage and dismantle the crane. Additionally, Echles Street will be closed between Southern and Spottswood. Traffic will be detoured to Patterson, Spottswood, and Goodman.

Please note that this schedule could be affected by weather.


---
Spring Herff College Career Fair
Just a heads: The Spring 2019 Herff College Career Fair will be held on Feb 8, 2019.


---
Tutoring - Fall 2018
Once again, Herff College is offering free tutoring for students. All tutoring takes place in EA304 (open computer lab).

New this year: On-line tutoring 24/7 via Upswing. This service is provided free of charge in 30 minute increments. You can access the on-line tutoring through the Educational Support Program.


---
Useful videos
Check out THIS YouTube Channel for over 500 fee online lectures and illustrated examples for electro-mechanical technology courses.


---
Banner Upgrade
A major upgrade to Banner, the university's centralized academic and administrative records system, is going live on Sept. 24. Why is this being announced here....so students are aware that their might be disruptions that could affect myMemphis functionality as the transition takes place. For more details, click here


---
Tau Alpha Pi
On Wednesday April 25, this year's new members to National Honor Society for Engineering Technology - Tau Alpha Pi at the University of Memphis were inducted. These students represent the upper 10% of all Engineering Technology Students.

Please join us in congratulating our latest Honorees.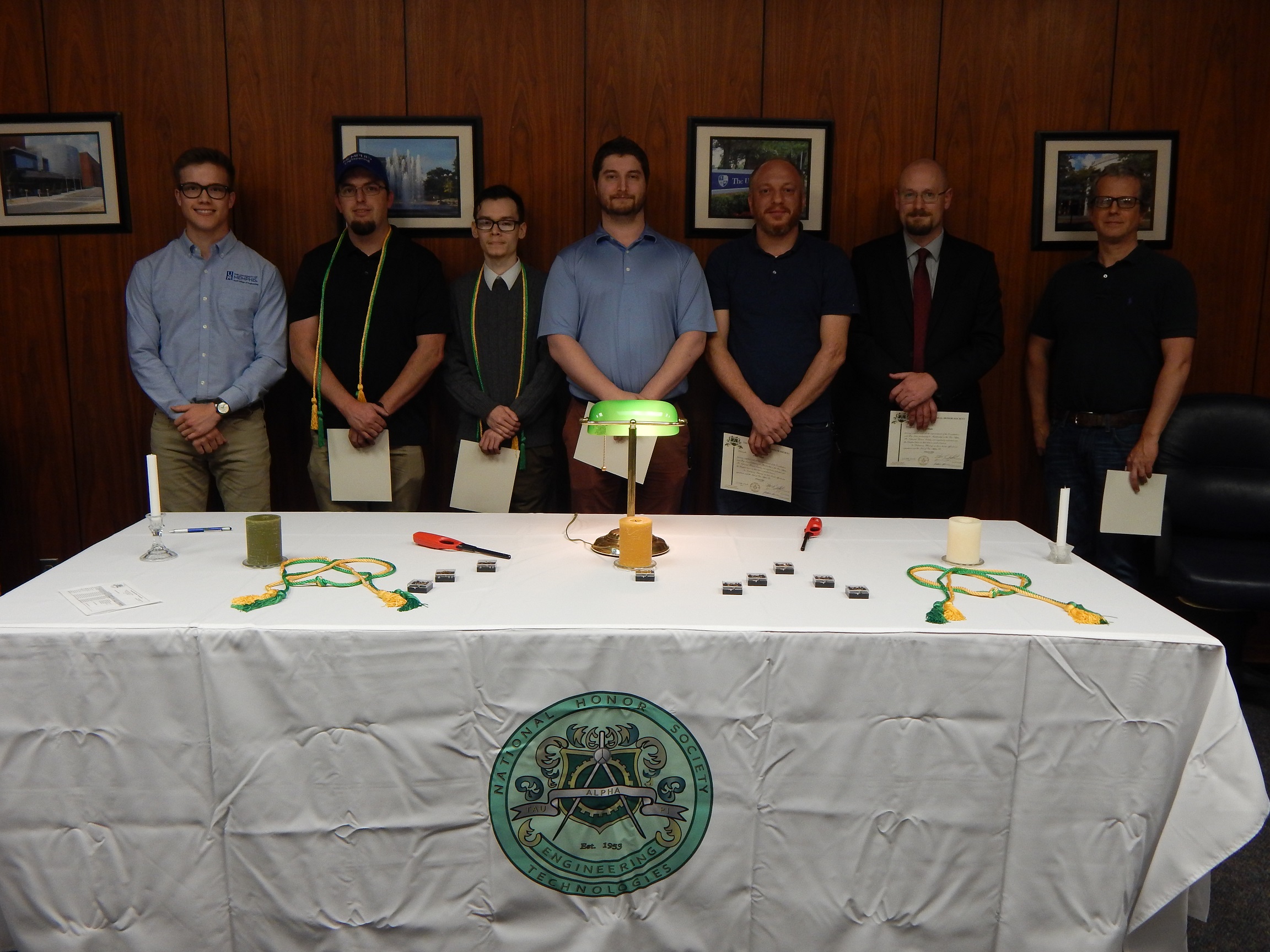 Mick McCarthy, Benjamin Estes, Tony Le, Forrest Russll, Ismaiel Kayali, Joe Williams, Robert Hewitt (Faculty)
(not shown: Benjamin Lawrence, Austin Galloway, Hunter Sarten, Terence Ryan, Hung Dinh, Zachary Hall, Cedric Daniels, Clayton Patton)
---
Outstanding Senior
The Department of Engineering Technology has recognized Benjamin Estes as the Outstanding Senior for 2017-18.

Please join us in congratulating Ben!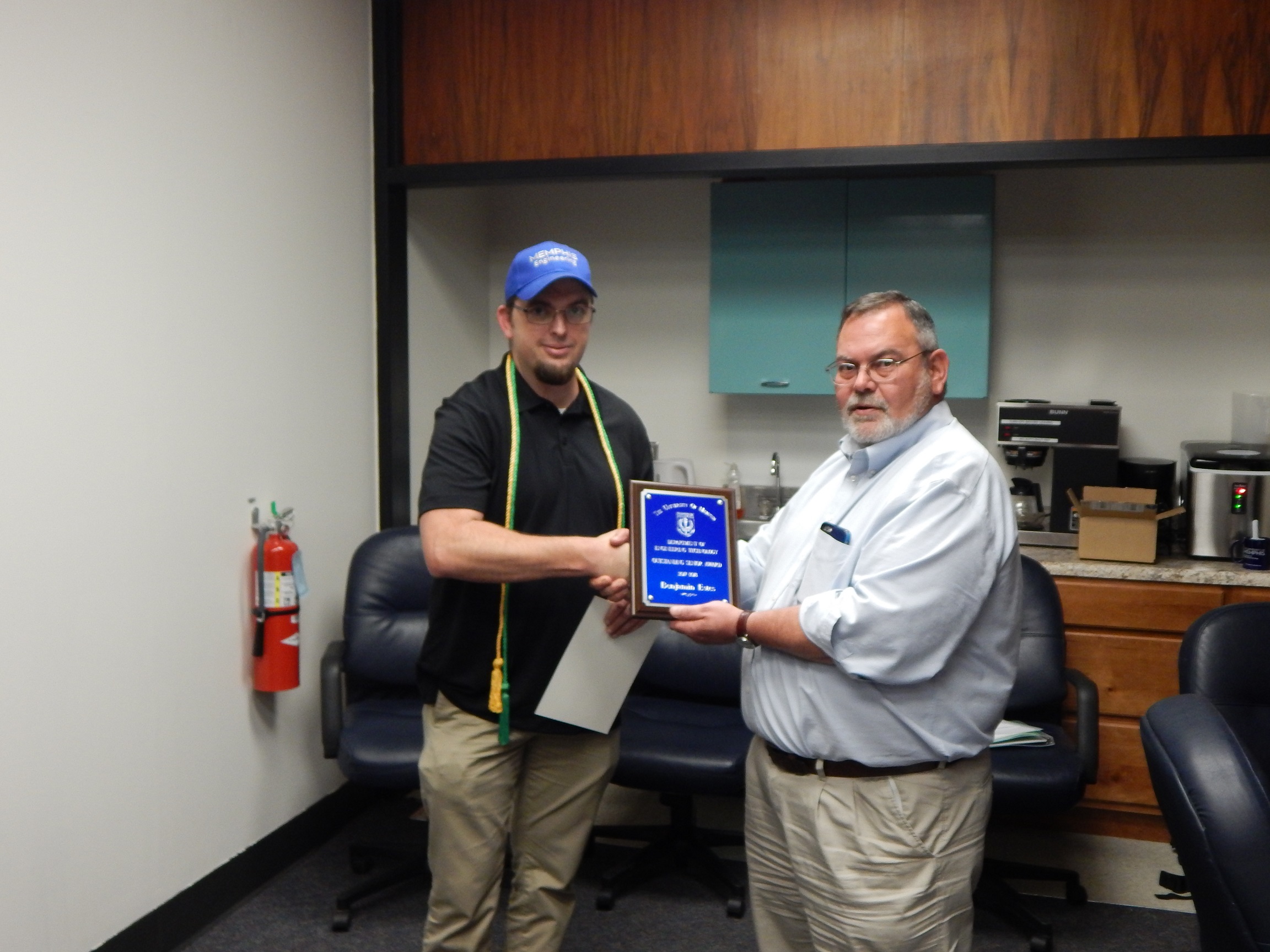 ---
Free Software!
As a UofM Student you have access to Microsoft 356 and OneDrive (cloud storage) from your email account. Login to your email and click on the box in the upper left hand corner of the page to access.

Need something else

The University of Memphis is also participating in Microsoft Imagine. This gives you access to Microsoft Windows Operating Systems (10, Server 2016 and 2012) as well as other programs such as Visual Studio, Project and Visio. Go to Microsoft Imagine HERE and follow the following instructions (thanks to Mick McCarty)

(old instructions - need to test off campus, on campus it goes directly to store)

First goto Microsoft Imagine
Go to "downloads" tab and click "my school webstore"
Type "university of memphis" and click the first pop-up "...-information technology"
Click "on Visit the webstore"
This should give you access to download software (you will have to log in with your UofM Credentials if you are off campus).
Make sure you note the licence key!
MatLab
(new for 2018)
The University of Memphis now has a site licence for MatLab. UofM students are eligible to download and install MatLab products on their personally-owned computers. Goto the
The University of Memphis MATLAB Portal
to download. You can also access free, self-paced training to get started in less than 2 hours:
MATLAB Onramp
.
Autodesk
Autodesk, makers of Autocad and Inventor, gives students their software for free. See
THIS PAGE
for details.
---
Senior Project Equipment
Do you know what you want to do for senior projects but don't have the equipment or money to buy it? I have acquired many items over the years that can be used for EETH and CETH senior projects (see link below).

I also have a number of computers that can be used by students for senior projects in ET227a for your use in case you need software not installed on the image in the computer labs, or you need Linux or another OS.


---