Science, Technology & Math Career Fair
Engineering Technology students....you are encouraged to attend the Science, Technology and Math Career Fair Feb 20 from 11AM – 3PM in the University Center Ballroom. You should have recieved an email with a list of employeers attending. This is another opportunity to meet with hiring recruiters for internships and full-time positions.

Business professional attire please. If you need additional information, you may contact Dr. Jada Meeks at jmeeks@memphis.edu.


---
Construction Management Program Info Session
The Herff College of Engineering will be starting a new Construction Management Program beginning Fall 2019. This will be available as a specialized Field of Study in Engineering Technology for the BSET program.

If you want to know more about Construction Management and the construction industry, join us for the Lunch and Learn series happening on several Fridays through the remainder of this semester. Flyer is attached.

This Friday, February 22, Turner Construction will be here. We will meet and eat in Room 116 in the Engineering Science building.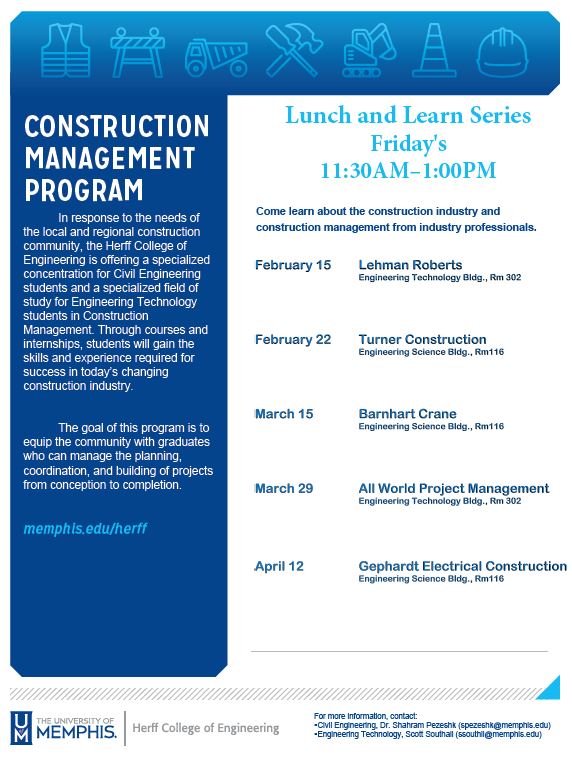 ---
Construction and Traffic Update
Section of Southern Avenue to be CLOSED
indefinitely beginning Monday, February 11
As you may have noticed, the pedestrian bridge across Southern Avenue is taking shape. The general contractor, Flintco, has notified us that additional action is now necessary that will affect vehicular traffic on Southern Avenue. Over the next several weeks, crews will be working on the bridge above Southern Avenue and the railroad tracks, welding, pouring concrete, and installing the suspension cables. This work is scheduled to be completed by late March, at which time Southern will reopen.
Beginning next Monday, February 11, Southern Avenue will be closed indefinitely to vehicular traffic between Houston Street and Goodman Street to allow work on the bridge above Southern. Additionally, Echles Street will be closed between Southern and Spottswood. Traffic will be detoured to Patterson, Spottswood, and Goodman. Please note that this schedule could be affected by weather.
---
UofM IEEE Student Meeting
Jalyn Kelley, a Client Services Manager for the IEEE, is going to be on campus Tuesday, February 19 and wants to meet with the IEEE Student Branch. There will be pizza and refreshments, as well as door prizes. Below is a description of the presentation:

Career, content, and networking: today's IEEE

This presentation on the role IEEE and IEEE Xplore plays in an engineer's education and career, will include an overview of:

• Career Resources & Tools for Job Searching
• Recommendations for attending career fairs
• How to stand out in an interview
• Scholarships & Student Competitions
• Networking opportunities
• IEEE Xplore Digital Library
• And more!

The exact time and location are TBD at the moment, though if you are interested please fill out this doodle poll with a certain time frame would work better so I can get the most people there!

The presentation is scheduled for February 19th at 4:30PM. The room number is EA 203 (The EA Auditorium). Please RSVP HERE.


---
Soft Robotics Technology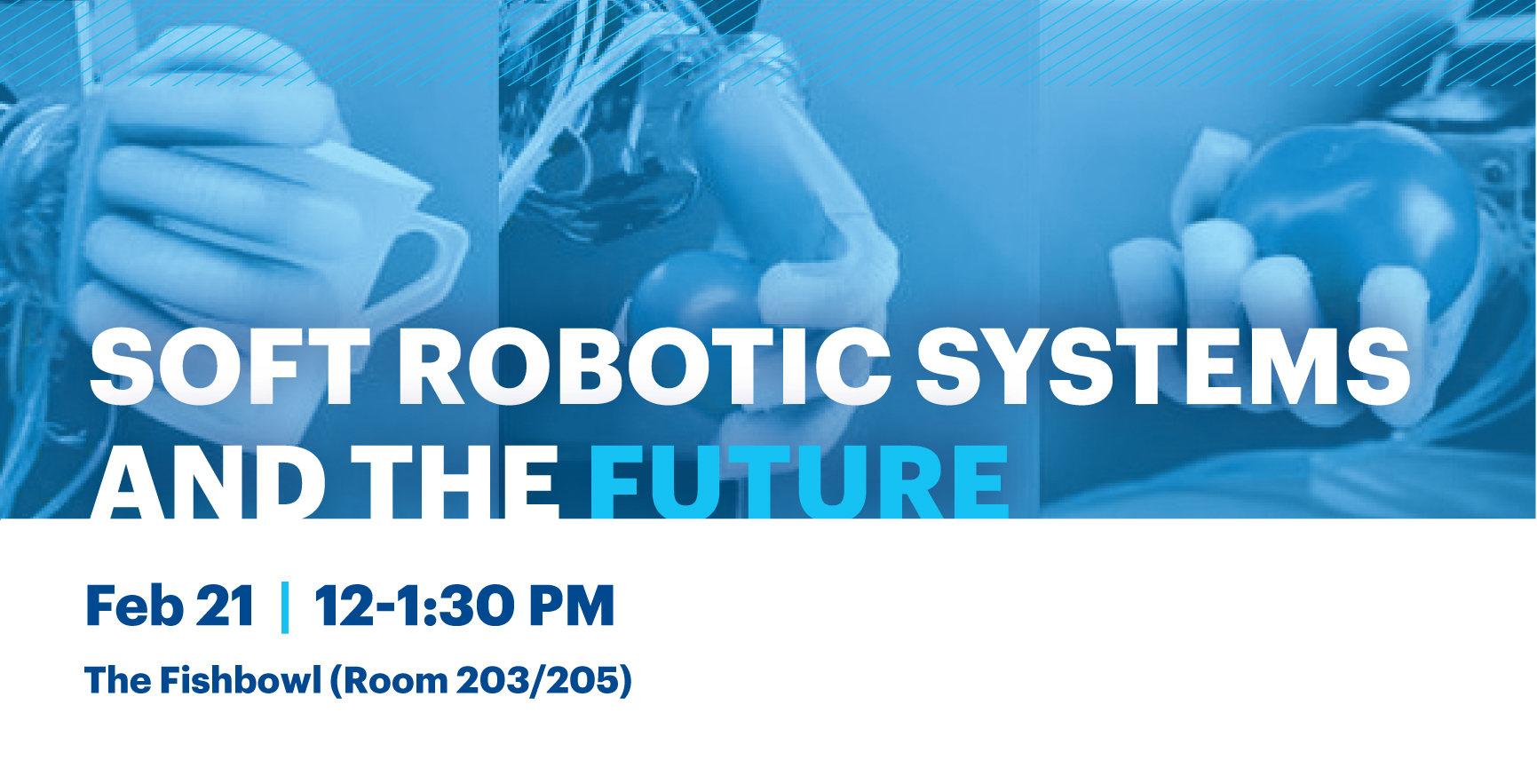 UofM is pleased to welcome Dr. TJ Wallin, a member of the Shepherd Robotics Lab at Cornell and a postdoc at Oculus VR, for a talk on his work in soft robotics technology. Soft robots are capable of mimicking the complex motion of animals. Soft robotic systems are defined by their compliance, which allows for continuous and often responsive localized deformation. These features make soft robots especially interesting for integration with human tissues, for example, the implementation of biomedical devices, and for robotic performance in harsh or uncertain environments, for example, exploration in confined spaces or locomotion on uneven terrain.


---
Bringing out the Leaders
6th Annual Bringing out the Leaders

EXPOSURE | ENLIGHTENMENT | EMPOWERMENT

Bridging the Gap between college and career by connecting college students with top industry professionals in the Mid-South.

Title Sponsor: Transnetyx


OVERVIEW
We know the challenges that exist in getting our college students out to network with professionals in the city, as well as acquiring knowledge in their desired fields and careers.
Bringing out the Leaders is an event that is designed to overcome these challenges. Bringing out the Leaders is not intended to be your normal cliché networking and Q&A session with students. They want to create a platform where college students can ask authentic questions and receive valuable insight. They want them to leave this event with real answers and real solutions that they can use the second they leave this event.
Event Details
Date: Thursday, April 11, 2019
Time: 6:00 PM (Doors open at 5:30 PM)
Location: University of Memphis (UC) Ballroom C
Panelists:
· Curtis Givens - CEO at CGI Entertainment
· Dorian Spears - Chief Partnerships Officer at Momentum Nonprofit Partners
· Michael Whaley - Shelby County Commissioner
· Laura Whitsitt - Senior VP at Smith & Nephew
· Mariangeles Grear - Development Specialist at ALSAC/St. Jude
Special Guests:
· Mayor Jim Strickland - City of Memphis
· Mayor Lee Harris - Shelby County
---
Useful videos
Check out This YouTube Channel for over 500 fee online lectures and illustrated examples for electro-mechanical technology courses.

Also check out This Website with all sorts of online simulations and demos (all related to Eng Tech Classes.


---
Spring Engineering Peer Tutoring Schedule
The engineering peer tutoring schedule for the spring is now posted. Tutoring will start on Tuesday. All tutoring takes place in EA304. You can always find an updated tutoring schedule on the college website, as well as, other resources.


---
Tau Alpha Pi
On Wednesday April 25, this year's new members to National Honor Society for Engineering Technology - Tau Alpha Pi at the University of Memphis were inducted. These students represent the upper 10% of all Engineering Technology Students.

Please join us in congratulating our latest Honorees.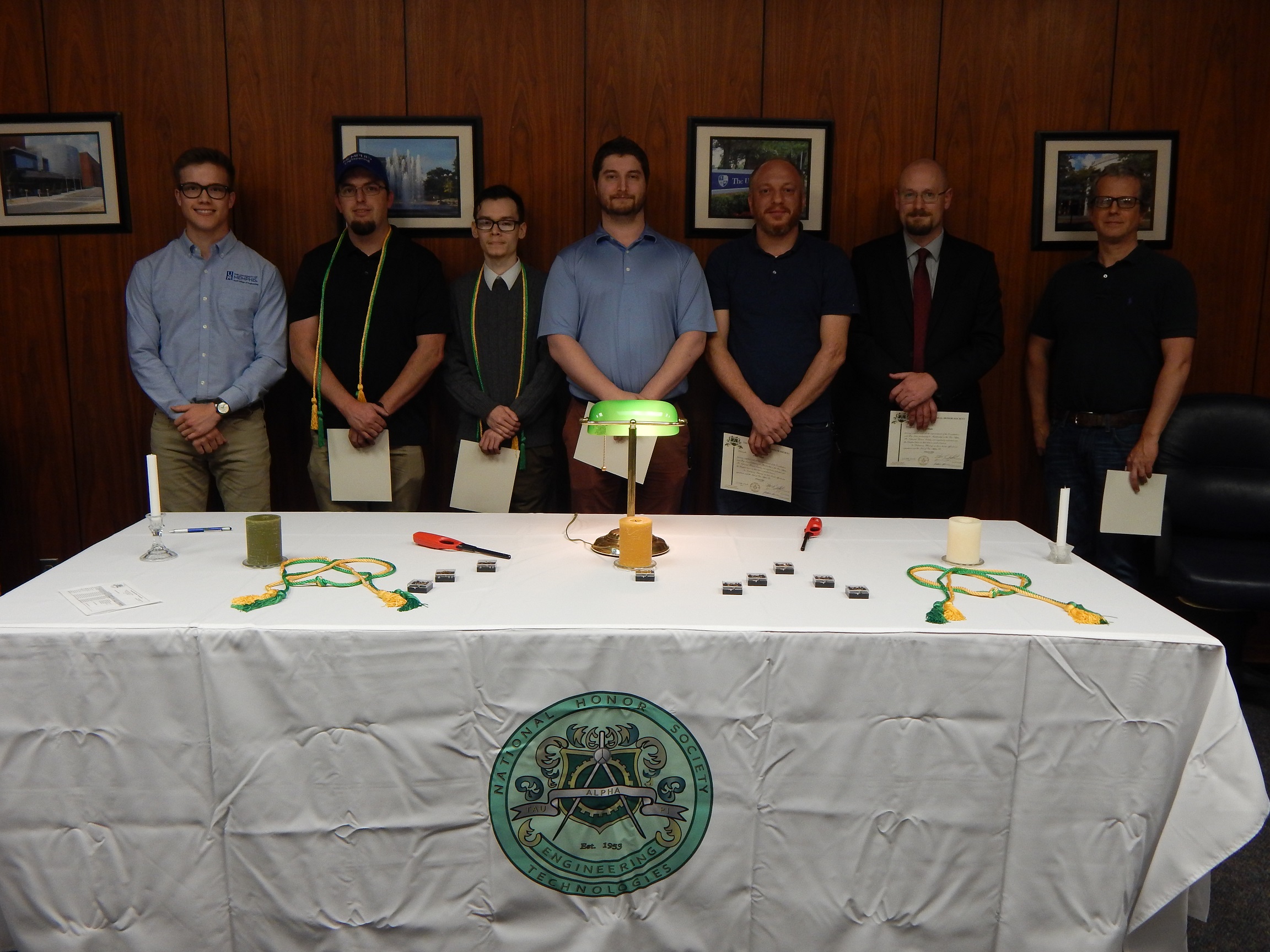 Mick McCarthy, Benjamin Estes, Tony Le, Forrest Russll, Ismaiel Kayali, Joe Williams, Robert Hewitt (Faculty)
(not shown: Benjamin Lawrence, Austin Galloway, Hunter Sarten, Terence Ryan, Hung Dinh, Zachary Hall, Cedric Daniels, Clayton Patton)
---
Outstanding Senior
The Department of Engineering Technology has recognized Benjamin Estes as the Outstanding Senior for 2017-18.

Please join us in congratulating Ben!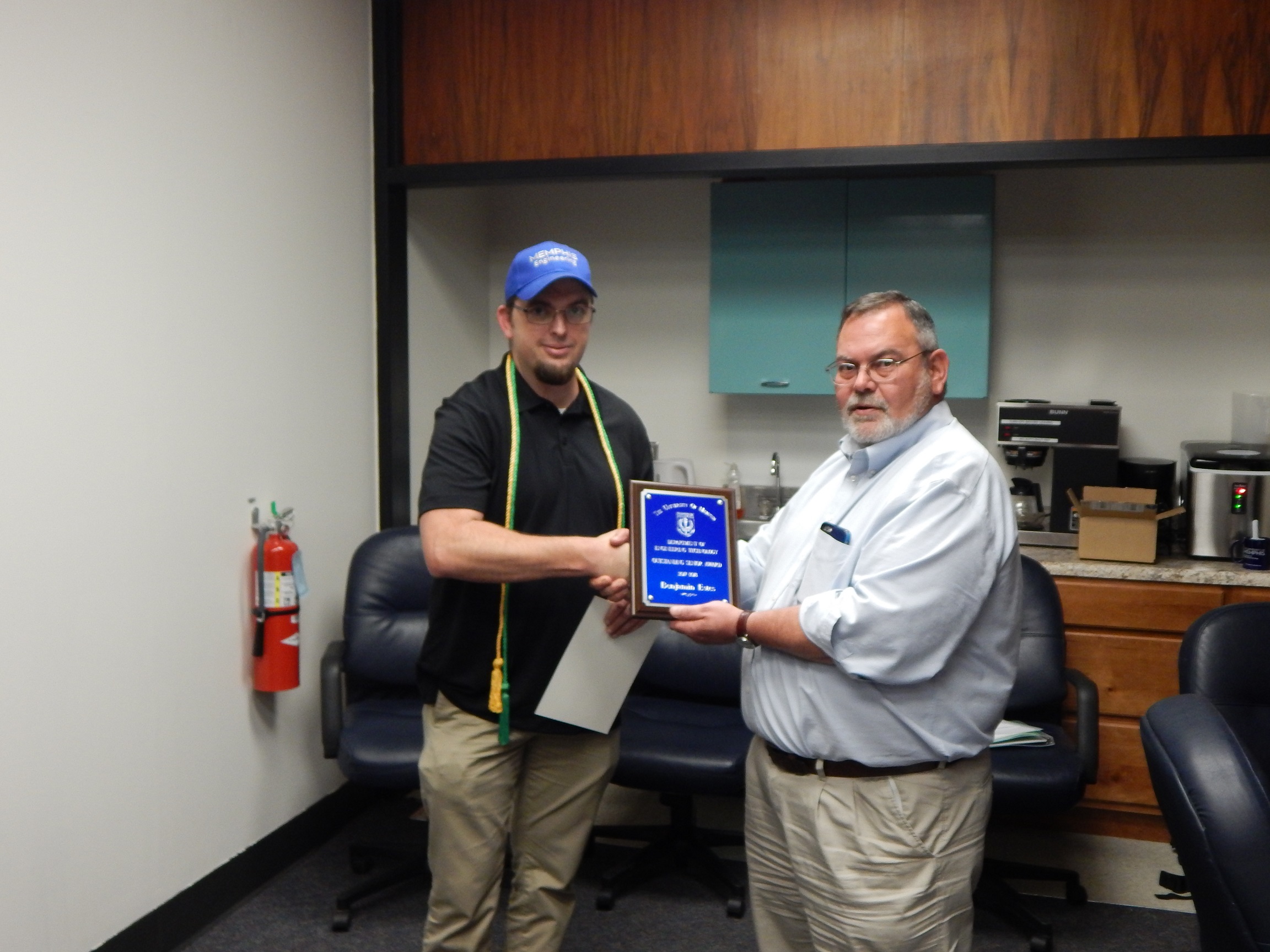 ---
Free Software!
As a UofM Student you have access to Microsoft 356 and OneDrive (cloud storage) from your email account. Login to your email and click on the box in the upper left hand corner of the page to access.

You can also install Microsoft Office for free. Open your email, and click on the menue icon (upper left hand of the screen). Then select "All Apps" and go to the bottom of the list and click on "Explore all your apps". Look for the "Install Office" button and select "other install options" and then select teh language and version and hit install.

Need something else

The University of Memphis is also participating in Microsoft Imagine. This gives you access to Microsoft Windows Operating Systems (10, Server 2016 and 2012) as well as other programs such as Visual Studio, Project and Visio. Go to Microsoft Imagine HERE and follow the following instructions (thanks to Mick McCarty)

(old instructions - need to test off campus, on campus it goes directly to store)

First goto Microsoft Imagine
Go to "downloads" tab and click "my school webstore"
Type "university of memphis" and click the first pop-up "...-information technology"
Click "on Visit the webstore"
This should give you access to download software (you will have to log in with your UofM Credentials if you are off campus).
Make sure you note the licence key!
MatLab
(new for 2018)
The University of Memphis now has a site licence for MatLab. UofM students are eligible to download and install MatLab products on their personally-owned computers. Goto the
The University of Memphis MATLAB Portal
to download. You can also access free, self-paced training to get started in less than 2 hours:
MATLAB Onramp
.
Autodesk
Autodesk, makers of Autocad and Inventor, gives students their software for free. See
THIS PAGE
for details.
---
Senior Project Equipment
Do you know what you want to do for senior projects but don't have the equipment or money to buy it? I have acquired many items over the years that can be used for EETH and CETH senior projects (see link below).

I also have a number of computers that can be used by students for senior projects in ET227a for your use in case you need software not installed on the image in the computer labs, or you need Linux or another OS.


---