Peer Tutoring
Once again Herff College is offering peer tutoring for our undergraduate students.

Attached is the Fall Tutoring schedule for you (click button below). We have a couple of new things this year.

1) Every student will need to swipe their university ID for check-in and check-out at tutoring. Tutoring is still FREE, but this will allow us to see how many students are using the free tutoring and make sure we are providing the best service possible.

2) Tutoring now has a new home. ALL tutoring will take place in ET236. This means the tutors won't be kicked out of the room due to scheduling conflicts. Also, this room is open for anyone to use through out the day for students to study in groups, use computers, and printing.


---
Arduino Mini Course
Todd Canaday will be offering a mini course on the Arduino microcontroller. The course is a non-credit, FREE class that is tentatively set to run Thursday at 9PM from Sep 8 to Oct 27. Click on the button below for more info.

I will offer extra credit for those students who fully participate in this mini-course who are in TECH 3232 and 3821.

Watch this entry for info on how to sign up when it becomes available.


---
First IEEE Meeting Announced
note - the time has changed from the original announcement, it is NOW at 3:30pm.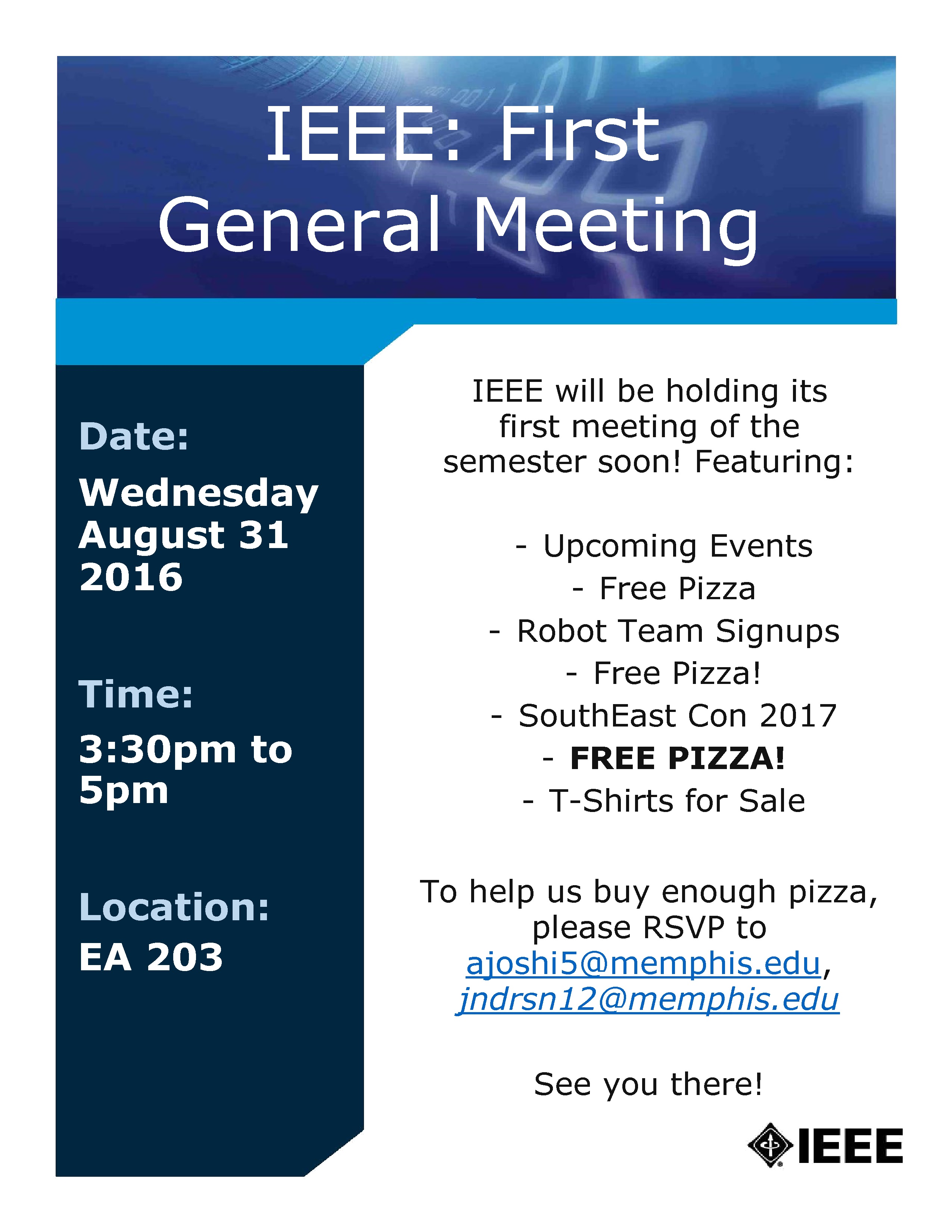 ---
Welcome Back
Welcome back students.
A few things have changed over the summer. First we have two new faculty within the department. Dr Himes has his PhD from Purdue University and has a wonderful and diverse background in industry, as does Dr Fields, who joins us from Alfred State College. Welcome them onboard.

Note that Dr Berriso has moved his office to ET226a, Dr Himes is in his old office and Dr Fields is in Prof Newman's old office (since he retired). You will still see Prof Newman around, he will be teaching a TECH1811 at night as an adjunct.
Herff College will host it's Welcome Back Picnic on the Patio next Wednesday, August 24th, in the "courtyard" between all of the Engineering buildings from 11:00 AM until 1:00 PM. There will be Hot Dogs and Hamburgers with all the fixins' along with cheese and vegetarian pizza. See you there!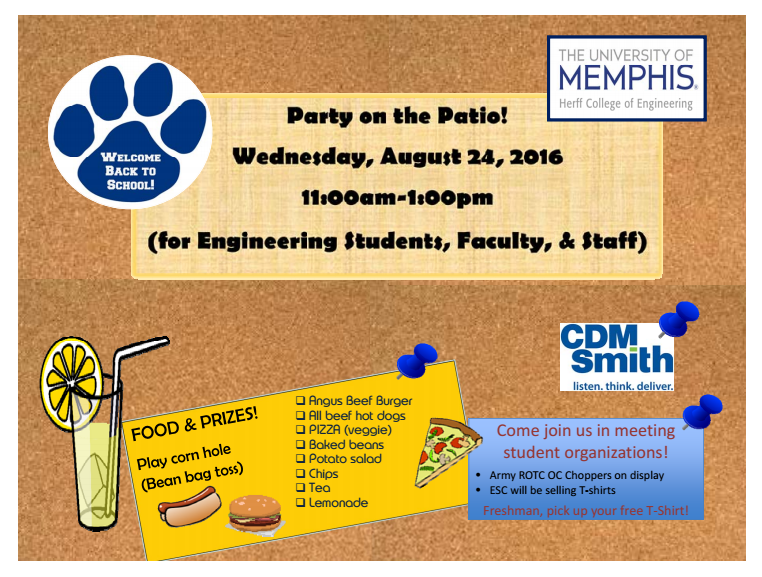 Also, parking services is introducing new parking tags using RFID technology. So no more rolling down you windows to swipe in (once they get the system fully implemented, which they HOPE will be by the start of the Fall Semester). They also say they have added some 722 new parking spaces on campus (mostly near the rec center).
They are still working on the demolition of the old Richardson Towers Building on the northwest side of campus (but it does not affect Central Ave often).
As for me:

This summer I completed the Appalachian Trail. This was my fourth hike (1996, 2002, 2010 and 2016) to complete the 2100+ miles from Georgia to Maine. I had a lot of fun and lost a LOT of weight and can now check that one off my bucket list. So if you tried to reach me over the summer, you probably did not get a response until now.

If you want to read more on my adventure, go Here
---
Tau Alpha Pi
On Friday Apr 29, we reactivated the National Honor Society for Engineering Technology - Tau Alpha Pi at the University of Memphis with our induction of this semester's honorees. These students represent the upper 10% of all Engineering Technology Students.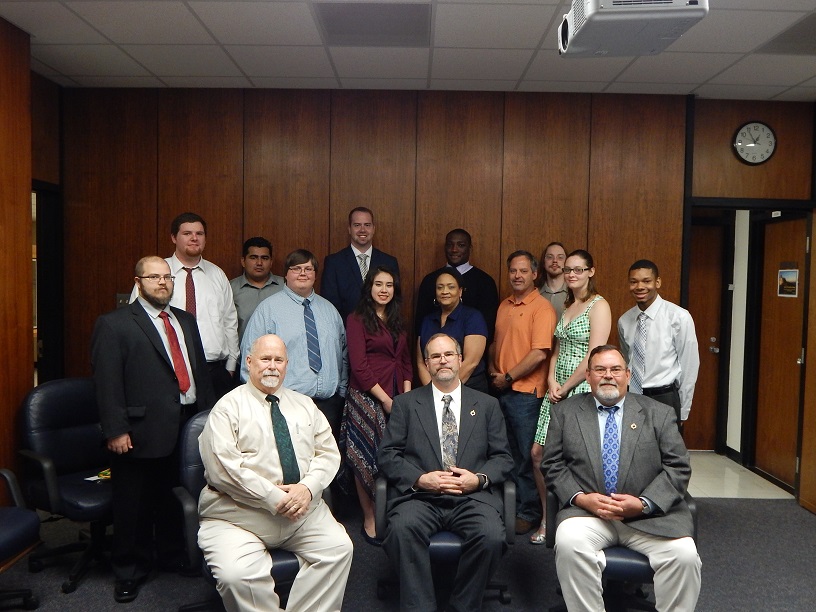 Shawn Westcott, Patrick Rhodes, Ajejandro Duarte, Matthew Kossan, Jackson Greer, Kimberle Solano, Tarolyn Moman, Jordan Greene, Curtis Sines, Nathaniel Hall, Marlene Meredith, and Antwan Gordon. Out front are the faculty, Professors Tom Banning, Daniel Kohn, and Scott Southall.
Congraduations TAP Honorees!
---
Free Microsoft Software!
The University of Memphis has joined Microsoft's "Student Advantage Program". Students, Faculty and Staff can now obtain the Office suite for their personal devices free of charge. This includes all desktops and mobile devices ( Windows, Mac, iOS, Android).

The program includes free access to Microsoft's OneDrive (cloud storage) with a quota of 1 TB.

Please go to http://Memphis.edu/getoffice and logon using your credentials to install the software.

Need something else

The University of Memphis is also participating in Microsoft DreamSpark. This gives you access to Microsoft Windows Operating Systems (10, 8.1, 8, 7) as well as other programs such as Visual Studio, Project and Visio. Go to DreamSpark HERE and select "DreamSpark for Academic Institutions - Access your subscription - Learn More" and type in "University of Memphis" into the search.


---
Senior Project Equipment
Do you know what you want to do for senior projects but don't have the equipment or money to buy it? I have acquired many items over the years that can be used for EETH and CETH senior projects (see link below).

I also have a number of computers that can be used by students for senior projects in ET227a for your use in case you need software not installed on the image in the computer labs, or you need Linux or another OS.


---