Department News
2020 IEEE Officers
5-27-2020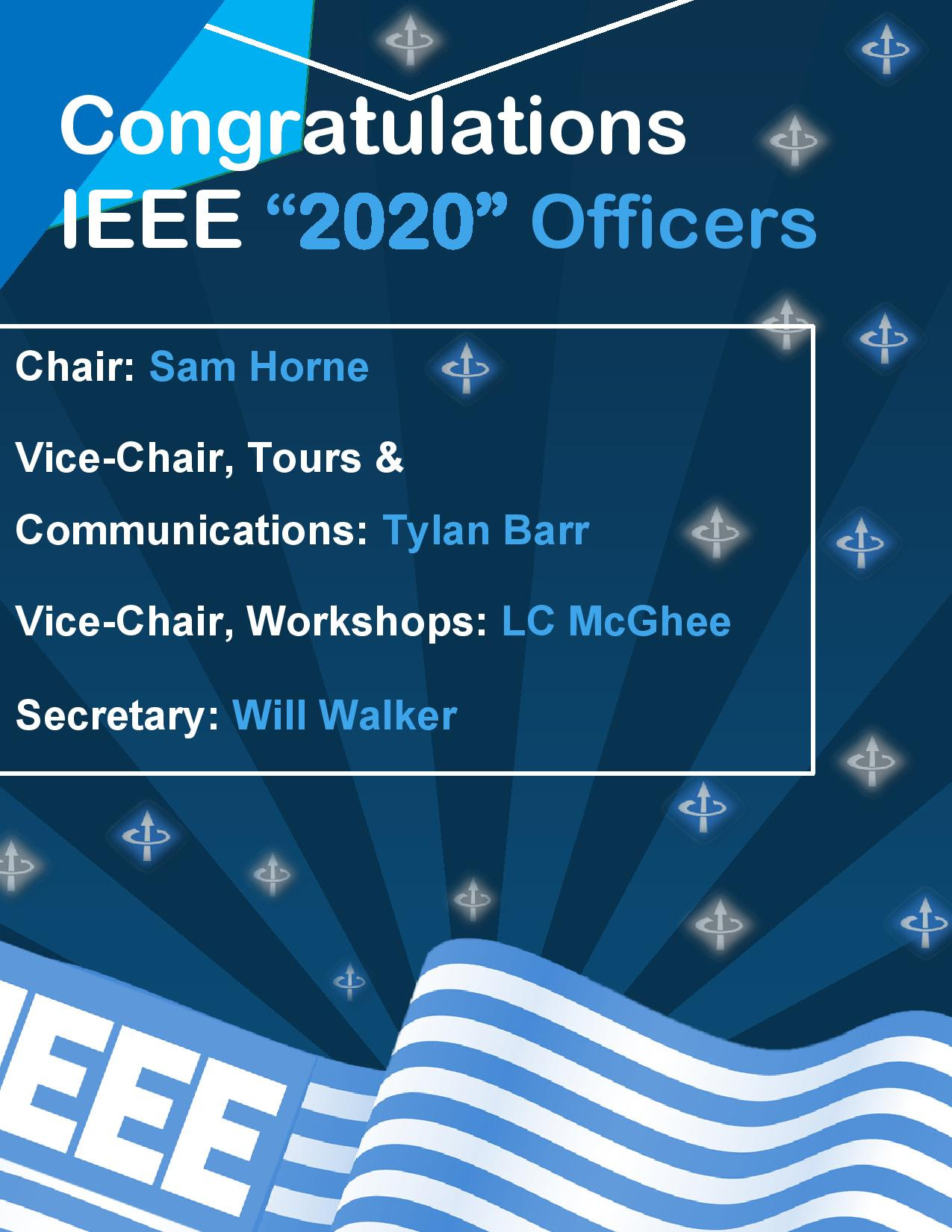 Spring 2020 Grades Posted; Credit / No Credit Opt-In Available Now
5-13-2020
Dear University of Memphis Student:

Your Spring 2020 grades have been posted to your academic record. Please go to the myMemphis portal and review your grades.

s you are aware, students may choose to have all of their Spring 2020 letter grades converted to Credit / No Credit grades. More information about Credit / No Credit grades can be found at memphis.edu/aa/aaunits/gradeoptions.php. You should consider talking to your advisor, your graduation analyst, Financial Aid staff and others to better understand this option and how it may impact you.
,br> TO HAVE SPRING 2020 GRADES CONVERTED TO CREDIT / NO CREDIT:

If you choose to have all of your Spring 2020 grades converted to Credit / No Credit grades, you must sign up on the online opt-in form at https://umwa.memphis.edu/forms/index.php/grade_select/user between May 13-May 19 at 4:30 pm.
After May 19, you will be unable to opt-in to receive Credit / No Credit grades for Spring 2020.
All of your Spring 2020 letter grades will be changed to Credit / No Credit on May 20.
Please note that transfer work will not be converted to Credit / No Credit.
IF YOU DO NOT OPT-IN WITH THE ABOVE FORM, YOUR SPRING 2020 LETTER GRADES WILL NOT BE CHANGED.
If you do not complete the online opt-in form, your letter grades will not be converted to Credit / No Credit. If you wish to keep your Spring 2020 letter grades as posted, there is no action needed.
Note for Law School Students: Due to the impact of COVID-19, all Spring 2020 law school classes were converted to mandatory pass/fail (P*/F*).
Congratulations, Class of 2020!
Project Notice | Natural Gas Improvement
5/10/2020
As part of our critical utility infrastructure improvements, work will begin summer 2020 to install high-pressure natural gas distribution throughout a significant portion of the main campus.

This project will be be implemented throughout the academic school year and scheduled for completion in approximately one year.

The diagram below provides a schematic view of natural gas pipe routing. Please notice the yellow circles, which identify the locations where significant digging will take place.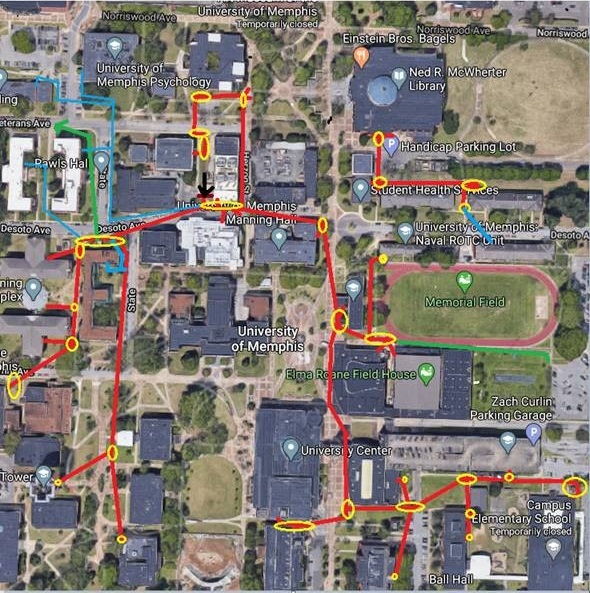 Official Notice


Academic Financial Support for Summer 2020
4-18-2020 (updated 4/22/20 to include #3)
In an effort to continue to support our students' progression to degree completion during these difficult times, the UofM is offering direct financial support to students for Summer 2020:


We will provide a direct grant to all students enrolled in summer online courses for the amount of the online fees they would have been charged. The $50 per student credit hour translates up to $150 per three credit hours, or up to $300 per six credit hours or two classes.
We are expanding the 3+3 program for all Freshmen and Sophomores and will be provide a direct grant to cover the cost of the second 3 credit hour class taken by eligible students. The direct financial support will be calculated based on your residency status for the assessed tuition.
For our upper class student populations (juniors and seniors), we are offering a $500 grant to assist juniors and seniors with their costs when enrolled for two classes in the summer 2020 semester. The additional direct grant will be on top of the grant that students will receive to cover the online course fees. For a student taking two classes, or six credit hours, this will result in a total grant amount of $800.
We strongly encourage all students to take advantage of these aid programs to continue their academic careers and progression toward degree completion. Please contact the Scholarship Office should you have any questions at scholarships@memphis.edu or visit memphis.edu/scholarships/threeplusthree.php.
TECH Student Featured on Hackaday
4-4-2020
Before break, Eng TECH Student, John Forsyth, had his project "Using Voice Commands To Start A Jeep" featured on the website Hackaday.

I ment to post it after break, but with everything that happened, it slipped my mind untill now.

It was also picked up by a 2nd website: Hackster

Considering that John is just now taking Microprocessors (TECH 3233), I can't wait to see what he cooks up for his senior project.....


Tau Alpha Pi
4-29-2019
On Friday April 26, this year's new members to National Honor Society for Engineering Technology - Tau Alpha Pi at the University of Memphis were inducted. These students represent the upper 10% of all Engineering Technology Students.

Please join us in congratulating our latest Honorees.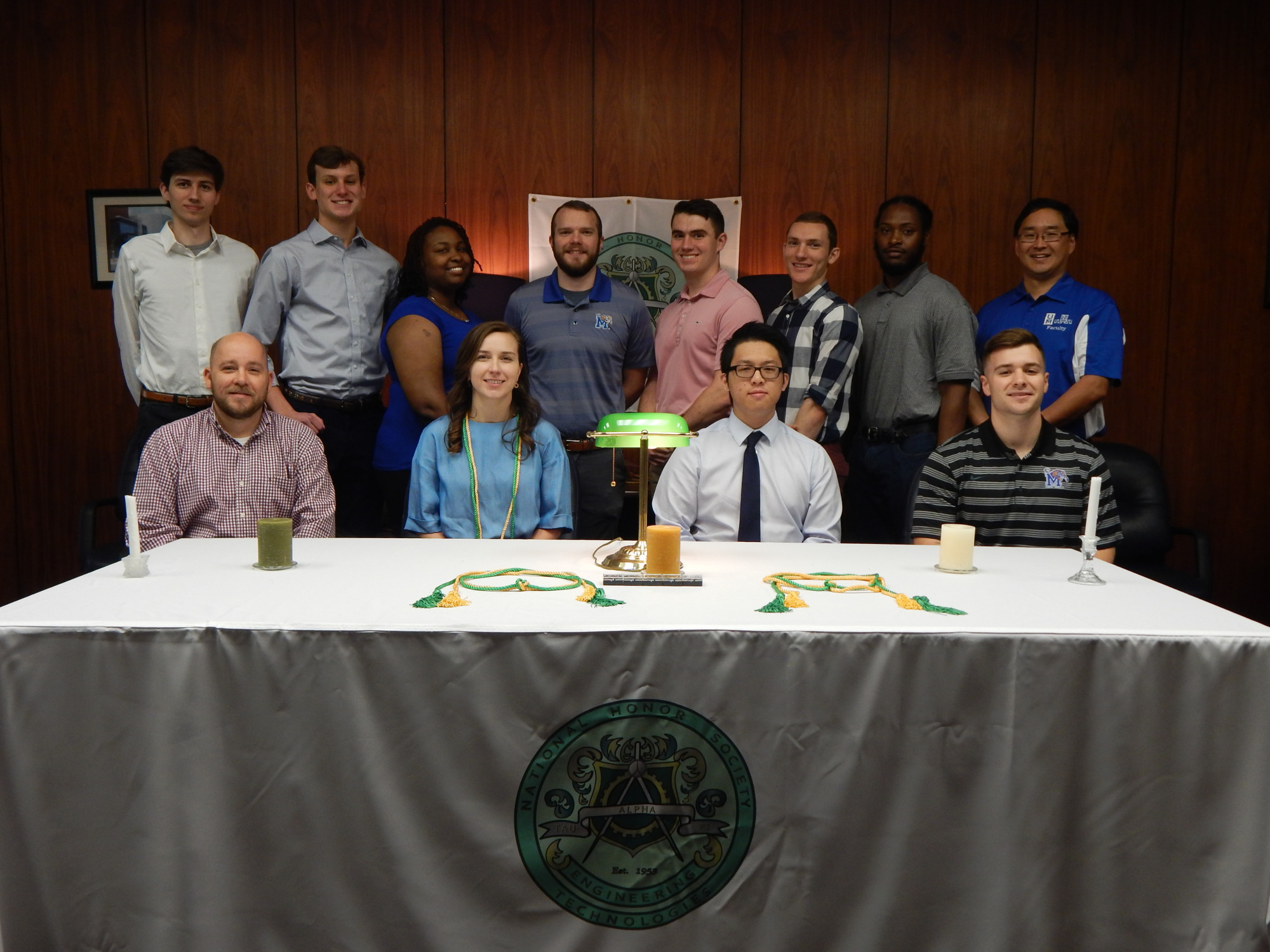 Back row: Lucas Rivers, Austin Gatlin, Ashely Woodall, Micah Zywicki, Austin Stone, Zach Artz, Dwight Newsome, Dr. Kevin Berisso
Front row: Brian McNabb, Amber Libby, Wen Xue, Austin Tuohy
not shown: Nicholas Chaney, Juan Torres Gomez, Uriel Rodriguez, Christopher Gray and Christopher Harrison)