Department News
IEEE Upcoming Meetings
8-28-2019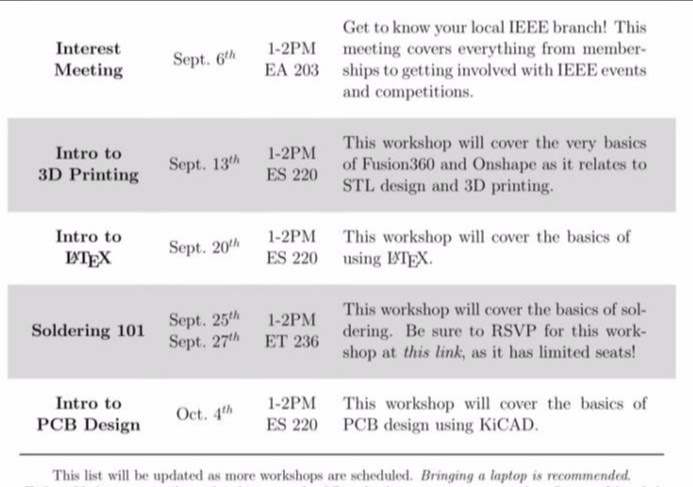 International Paper - IT Info Session
9-16-2019

International Paper is hosting an IT Info Session after the Engineering Career Fair on Friday, September 20 from 12:30 PM – 1:30 PM in the Engineering Science Building, Room 220 for Computing Engineering and Engineering Technology majors interested in information technology. Fall Semester is IP's recruiting season for full-time employment and Summer 2020 internships.

Please RSVP for the IT Info Session HERE.


Fall 2019 Herff College Career Fair
3-14-2019 (Updated - 8-15-19, 9-14-19)
The 2019 Fall Herff College of Engineering Career Fair will be on Friday Sep 20, 2019 from 8:30am - 11:30am. REGISTER HERE.

Tips to Get the Most Out of the Engineering Career Fair:

Bring extra copies of your resume to submit to employers. Use resume paper!
Come prepared. If you spend a little time getting some background on an organization, then you can ask very focused and specific questions. This impresses representatives because it shows a genuine interest in them.
Dress appropriately – Professional business attire required and your name badge goes on the right side.
Allow yourself adequate time. Come as early as possible. You may need to return between classes.
Prioritize the employers you're most interested in.
Introduce yourself and be prepared to give your "elevator/career pitch." Extend your hand, say "hello" and state your name. Have your resume ready to give to the employer. Be ready to talk about your career interests as well as academic and extracurricular experiences to show your skills and strengths.
Take notes when you inquire about next steps and the possibility of talking with additional managers.
Ask the representative for his/her card, and then promptly send a thank-you note. Having the business card of the representative you have just spoken with serves three purposes. First, you have a direct contact with the organization, including the proper spelling of the representative's name, direct telephone line, etc. Second, a brief thank-you note acknowledges the help they gave you and the time they took to visit campus. Third, sending thank-you notes is a good professional habit.
Be courteous and do not monopolize the representative's time! Demonstrate sensitivity to other students waiting to speak with employers by keeping your questions brief and offering to continue your conversation at a later time. Enjoy the fair and your interaction with the employers. Let your positive TIGER attitude show!
A full list of companies scheduled to attend can be found
HERE
.
More IEEE News
9-11-2019

Note: the possition of Vice-Chair for Egineering Technology is currently opened. If you are intrested contact the IEEE Student Branch at ieee@memphis.edu.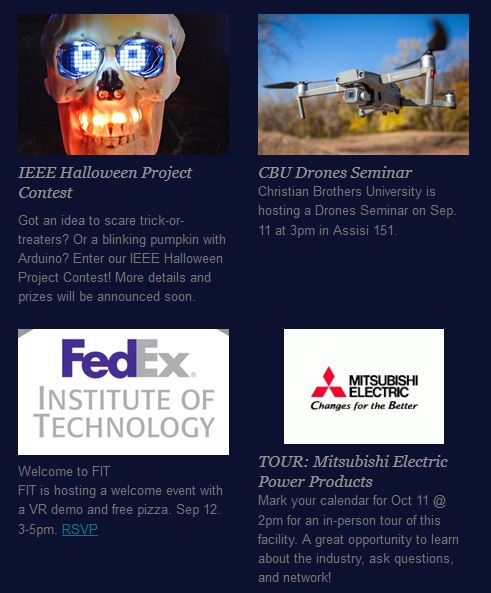 To RSVP for the Mitsubishi Tour, please CLICK HERE.
MATLAB License
9-20-2019
The MATLAB license has been renewed but you need to update the license file. See these instructions.

To update the license file:
Open MATLAB.
Select the drop-down menu under the "Help" button on the toolbar.
Select "Licensing".
Select "Update Current License".
Select the license that you want to update.
Click on the "Update" button.
Confirm that you want to update the license by selecting "Yes" on the next screen.
The license file will be updated automatically using the internet.
After updating the license, you may need to restart MATLAB in order to implement the change. After restarting MATLAB, if the license file is still not updated, then please contact your License Administrator as they might need to update the expiration date.
Graduate School Information Fair
9-5-2019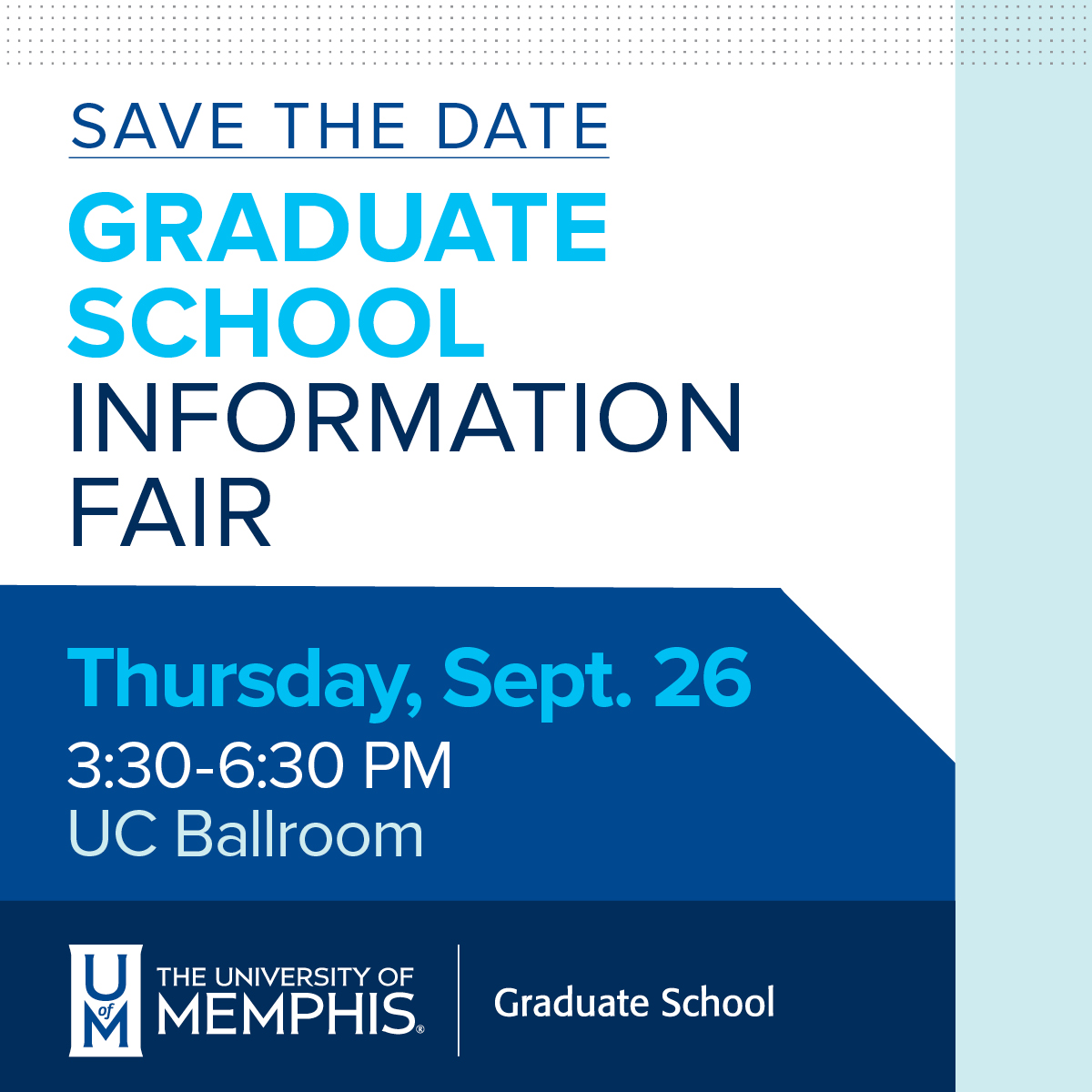 Decommission of umDrive
8-31-2019
Information Technology Services (ITS) has been notified by the vendor that support for our umDrive platform will be discontinued effective Dec. 31, 2019. ITS has identified alternative services and prepared a plan to move data from umDrive that will cause as little disruption as possible.

umDrive will remain fully functional for fall 2019. Local Support Providers (LSPs) have been trained to assist with moving data to alternate spaces with similar or exact services as umDrive. You can find details on what services are available for storage, collaboration and publication at this website.

We understand this change is inconvenient, and we are committed to easing the discomfort as much as we can. For assistance with umDrive issues, please contact the Service Desk by calling 901.678.8888, emailing umtech@memphis.edu or visiting helpdesk.memphis.edu.

Original (Official) Announcment


---
So what does this mean for you:

If you have stuff you want to keep that is currently on umDrive, you need to make a backup of it before the end of the fall term. (see website for instructions).

Faculty who use umDrive for various reasons will be changing to something diferent next term, so expect new instructions for getting content and submitting assignments if your instructor has traditionally used umDrive in the past and expect some technical issues at the start of the spring term.


E-Day
8-16-2019
E-Day (Herff College Open House) will be held on Oct 25, 2019. Full competition rules and registration will be available HERE on Sep 3, 2019.

Engineering Tech Students: Check with your Professors to see if you class will be doing demonstrations, your class will not be meeting and/or extra credit opportunities are available for helping.


Tau Alpha Pi
4-29-2019
On Friday April 26, this year's new members to National Honor Society for Engineering Technology - Tau Alpha Pi at the University of Memphis were inducted. These students represent the upper 10% of all Engineering Technology Students.

Please join us in congratulating our latest Honorees.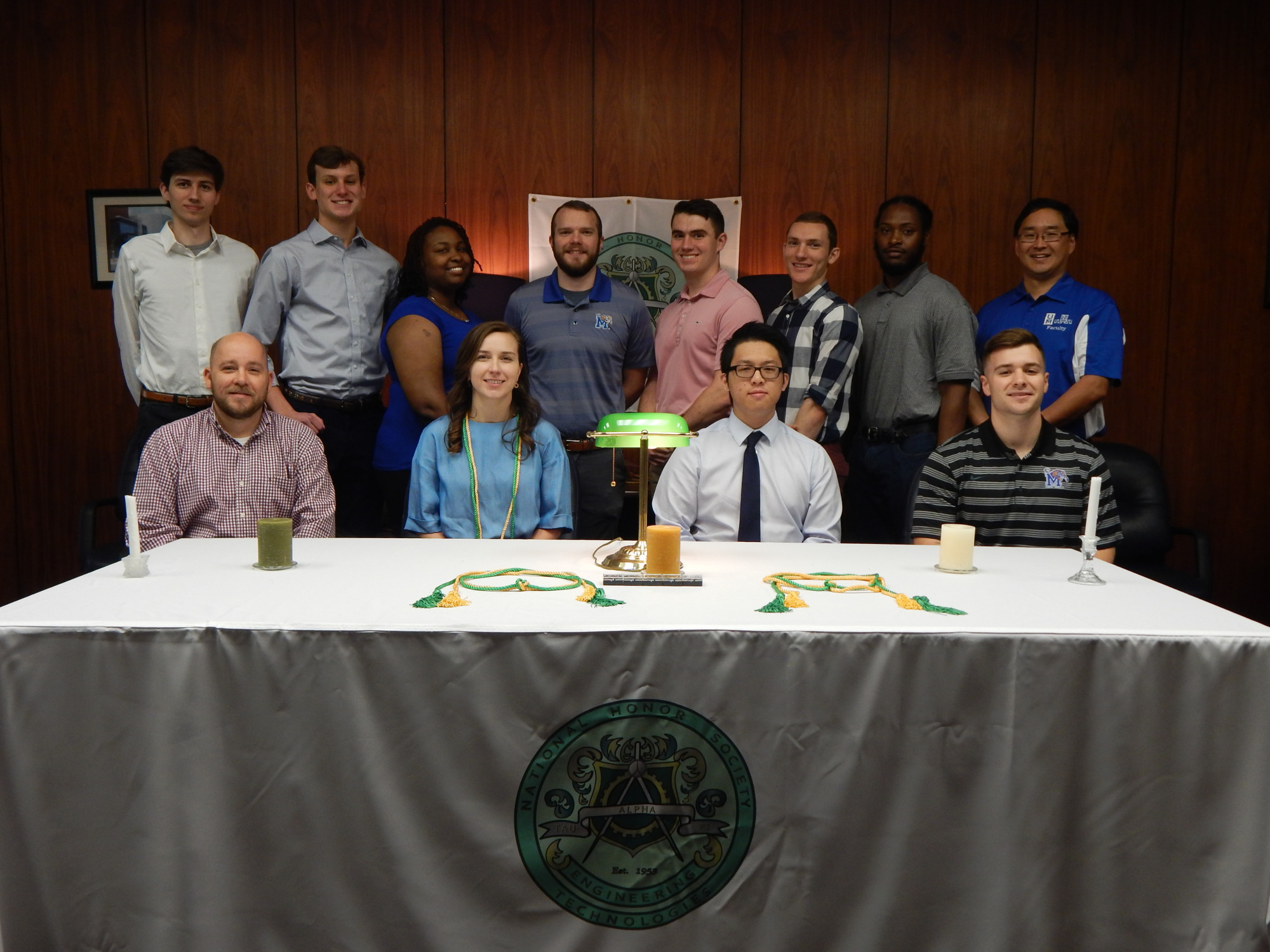 Back row: Lucas Rivers, Austin Gatlin, Ashely Woodall, Micah Zywicki, Austin Stone, Zach Artz, Dwight Newsome, Dr. Kevin Berisso
Front row: Brian McNabb, Amber Libby, Wen Xue, Austin Tuohy
not shown: Nicholas Chaney, Juan Torres Gomez, Uriel Rodriguez, Christopher Gray and Christopher Harrison)