New Food POD open
There is now a a Food POD in our engineering complex! It is located on the 2nd floor in the breezeway between the EA/ET building. It has fresh brewed coffee, soda, sandwiches, salads, fruit, and more.

The hours are:
Mon.-Thur. 7:30am - 7:00pm
Friday 7:30am - 1:30pm

All major credit cards accepted, cash, dining dollars, and flex bucks.
(hours of operation, food offerings, and forms of payment can change without notice)


---
Happy Holidays from Herff College of Engineering
---
Tau Alpha Pi
On Friday Dec 9, we inducted one new member to National Honor Society for Engineering Technology - Tau Alpha Pi at the University of Memphis with our induction of this semester's honorees. These students represent the upper 10% of all Engineering Technology Students.

Please join us in congratulating Brennan Toldi as our latest Honoree.


---
Scholarship Opportunities - Tiger Scholarship Manager
Tiger Scholarship Manager Application has opened for the 2017-2018 school year. The online application allows all undergraduate, graduate, admitted freshmen, and admitted transfer students to apply for scholarships in a centralized location. The deadline is February 3, 2017.

You are encouraged to apply for the available private and departmental scholarships. Information on how and where you can apply can be found on www.memphis.edu/scholarships. If you have any questions please call the Scholarship office at 901-678-3213, or email them at scholarships@memphis.edu.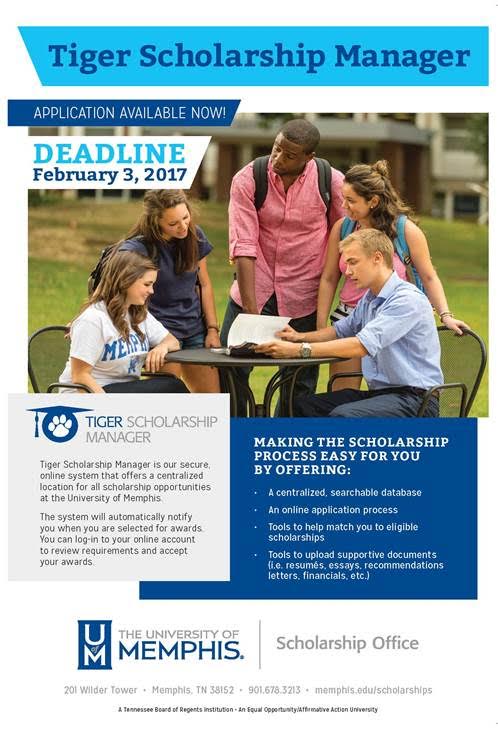 ---
Helpful Video Tutorials for Electronics Students
What to learn about Breadboards, soldering or basic electronic components you will be using in Eng Tech? Check out these tutorials from Arrow Electronics.


---
Free Microsoft Software!
The University of Memphis has joined Microsoft's "Student Advantage Program". Students, Faculty and Staff can now obtain the Office suite for their personal devices free of charge. This includes all desktops and mobile devices ( Windows, Mac, iOS, Android).

The program includes free access to Microsoft's OneDrive (cloud storage) with a quota of 1 TB.

Please go to http://Memphis.edu/getoffice and logon using your credentials to install the software.

Need something else

The University of Memphis is also participating in Microsoft DreamSpark. This gives you access to Microsoft Windows Operating Systems (10, 8.1, 8, 7) as well as other programs such as Visual Studio, Project and Visio. Go to DreamSpark HERE and follow the following instructions (thanks to Mick McCarty)


First goto DreamSpark
Go to "downloads" tab and click "my school webstore"
Type "university of memphis" and click the first pop-up "...-information technology"
Click "on Visit the webstore"
This should give you access to download software (you will have to log in with your UofM Credentials if you are off campus).
Make sure you note the licence key!
---
Senior Project Equipment
Do you know what you want to do for senior projects but don't have the equipment or money to buy it? I have acquired many items over the years that can be used for EETH and CETH senior projects (see link below).

I also have a number of computers that can be used by students for senior projects in ET227a for your use in case you need software not installed on the image in the computer labs, or you need Linux or another OS.


---