Department News
CfIA and Navy ROTC hosting virtual cybersecurity workshop for students
4-12-2021
The Center for Information Assurance (CfIA) and the Navy ROTC research students will be hosting a virtual workshop for all UofM students on April 17 from 9 a.m.-1 p.m. The workshop discussions will focus on recent cybersecurity issues, the use of machine learning in cybersecurity, and how to protect users and their privacy from social engineering attacks.

The workshop will also include two guest speakers:
Timothy Marsh (FBI - Memphis Division) will discuss "Internet of Things (IoT) & Healthcare."
Dr. Dipankar Dasgupta will discuss "Cyber Risks in Emerging Technologies and Cybersecurity Solutions — Tools & Techniques."
Click
HERE
to register.
Engineering Job Opportunity & Virtual Information Session
4-13-2021
Sediver is hosting a virtual information session for engineering technology, electrical and mechanical engineering students focused on automation. See the job description.

The info session will be held by Sediver Thursday, Apr 15 from 1pm - 2pm. Please check your memphis.edu email for Microsoft Teams Link.


Vaccine Availability and Shuttle Service Update
4-12-2021
From: University of Memphis

The University is partnering with the City of Memphis to provide expedited access to vaccines. Students, faculty and staff may be vaccinated without an appointment at the Pipkin Building. You are requested to come to the entrance at Central and Early Maxwell with a UofM ID. The hours of operation are 7 a.m. through 7 p.m., seven days a week. The vaccine immunization form is available online for individuals to complete before going to the site. More information can be found at covid19.memphistn.gov.

The University will also offer a shuttle to the Pipkin Building for interested UofM students, faculty and staff. The pickup point will be in front of the Student Health Center, and the departure times will be Monday through Friday at 8:30 a.m., 10:30 a.m. and 1:00 p.m. The shuttle has a maximum capacity of ten individuals, and masks are required. Individuals are asked to sign up for the shuttle at bit.ly/VaccineRide to ensure capacity limits are maintained. The shuttle service begins Wednesday, April 14. View more information regarding the route at blueline.doublemap.com/map.


Update on Fall Classes
3-20-2021
Since a number of students have asked questions about the Fall 2021 semester and are considering taking a semester off if Fall 2021 is on-line once again, I wanted to provide this summary of statements concerning the Fall 2021 Semester sent out over the past week:

The first email from the Provost, stated:

"we expect full-time faculty (including full-time instructors/coordinators) will ordinarily discharge their professional responsibilities in the areas of teaching, research and service by being physically present on campus during their contract period this fall semester." with exceptions granted "based on unusual circumstances".

The second email stated:

"University of Memphis is working with the State to have the Student Health Center serve as a vaccine site for all faculty, staff and students."

These two emails, along with the previous email with the subject line "Looking Forward to the Fall Semester" that stated:

"Our regular classes will be held at the times and in the locations listed in the schedule of classes. In-person attendance will be expected and recorded in the same way as it was prior to COVID. If, for some reason, in-person attendance this fall will not be possible for you, please choose online classes that will allow you to continue your studies."

So my interpretation is: with the vaccine becoming more and more available (and all indications that everyone who wants a shot will be able to get one before fall) and the above emails stressing that faculty should plan for a "Normal Semester" in the fall, I am expecting that we WILL be on campus and have in-person classes this fall.

Of course this could change if there is another covid surge, so I do ask that you consider getting the vaccine to protect you, your classmates, faculty and staff, so we can have a safe return to campus in the Fall.

I do look forward to getting "back to normal" and getting back into the classroom (and labs) and seeing you all IN PERSON for the Fall 2021 Semester!


Citrix (umApps) Access
2-20-2021
Due to a potential security issues, ITS has moved Citrix (umApps) behind the firewall. It can still be accessed from off campus, but now you must use a Virtual Private Network (VPN) to access it.

How to Connect to the VPN:

AnyConnect is the preferred VPN client. It is compatible with most operating systems, but may not be compatible with some older networking hardware. Begin by going to the VPN install site and log in using your UUID and password (this is the same password that you use for umMail, and all other campus resources). Next, select the download for your OS and follow the onscreen directions.

NOTE:
For Apple IOS you will need to download AnyConnect from the Apple Store.
For Android OS you will need to download AnyConnect from the Google App Store.
For Chromebook OS you will need to download AnyConnect from the Google Web Store.
Instructions:
Download AnyConnect Client Software for Linux, Red Hat, Ubuntu from the
VPN install site
.
Once you have installed the VPN and logged in via Single Sign On (SSO) and Duo, your computer will be vitually part of the UofM network (and be allowed to access umApps). You can disconnect from the UofM VPN by clicking on the cisco vpn icon in your hidden icons try and disconnecting.
Tau Alpha Pi
6-2-2020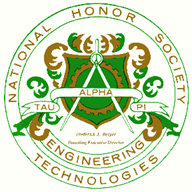 Although we could not hold our normal Induction Ceremony due to the Covid-19 Pandemic, we are proud to announce this year's Tau Alpha Pi Engineering Technology Honor Society's Inductees:

Lawrence Smith, Allen "Brad" Bross, Micah Zywicki, Cecil DeVilbiss, Tylan Barr, Peyton Roberts, Phuc Nguyen, Hunter Underwood, Courtney Moore, Michell McCaskill and Mattew Hale (GR)

These students represent the upper 10% of all Engineering Technology Students.

Please join us in congratulating our latest Honorees.