Department News
eCourseware - Changes Coming
7-7-21 Updated 12/4/21
from: UofM Office of the Provost

The current license for our Learning Management System (LMS), eCourseware (D2L), expires December 31, 2021. Accordingly, the University of Memphis has decided to make the transition from D2L to Canvas by Instructure as our official LMS on January 1, 2022. The change is being made after careful study and clear, overwhelming support from faculty. Canvas was the preferred LMS by the vast majority of our 41 faculty and staff evaluators in 2020. As the LMS market leader in North American higher education, Canvas will be a valuable service for all modalities of instruction, including on-ground and online classes.

Please view the UofM Canvas LMS Transition 2022 webpage to learn more about reasons for this change and the timeline for course migration and training.


---
If you need to access course material or graded work for continuing courses (ie Senior Projects, Pre-requisits etc) in Spring 2022 or beyond, make sure you download the material BEFORE eCourseware is shut down in Mid Dec!


Scholarships
Tau Alpha Pi
4-29-2021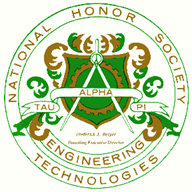 Although we could not hold our normal Induction Ceremony due to the Covid-19 Pandemic, we are proud to announce this year's Tau Alpha Pi Engineering Technology Honor Society's Inductees:

Mason Gallaher, Jed Porter, Jacob Hayden, Andrew Burney, Joshua Cole, Carlos Villegas, Andrew Sichting, Jeremy Lamont, Carson White and Thierno Diallo.

These students represent the upper 10% of all Engineering Technology Students.

Please join us in congratulating our latest Honorees.