Department of Energy Virtual Career Fair
L.I.V.E. Department of Energy Virtual Career Fair
Nov. 29, 1-3 p.m. ET
Register today: https://orau.6connex.com/event/LIVE/WDTS/login


UNDERGRADS: Looking for an opportunity to participate in STEM research at a one-of-a-kind research facility?
The next step in your search is just a click away!
Join us from 1-3 p.m. ET Thursday, Nov. 29, 2018, for the L.I.V.E. Department of Energy, Office of Science, Office of Workforce Development for Teachers and Scientists (WDTS) Virtual Career Fair and discover the opportunities to participate in the Science Undergraduate Laboratory Internships (SULI) and the Community College Internships (CCI) at six participating labs/facilities:
Oak Ridge National Laboratory
Argonne National Laboratory
Brookhaven National Laboratory
National Renewable Energy Laboratory
Pacific Northwest National Laboratory
General Atomics
During the L.I.V.E. Virtual Career Fair, you'll be able to interact with recruiters, scientists and researchers; explore information about each lab/facility; and learn about the SULI and CCI experiences.
Please note that these opportunities are only for undergraduate students attending accredited U.S. institutions who are U.S. citizens or legal permanent residents.
Learn more about the event and how to register here:
https://orau.6connex.com/event/LIVE/WDTS/login
.
---
Spring Herff College Career Fair
Just a heads: The Spring 2019 Herff College Career Fair will be held on Feb 8, 2019.


---
Student Professional Awareness Conference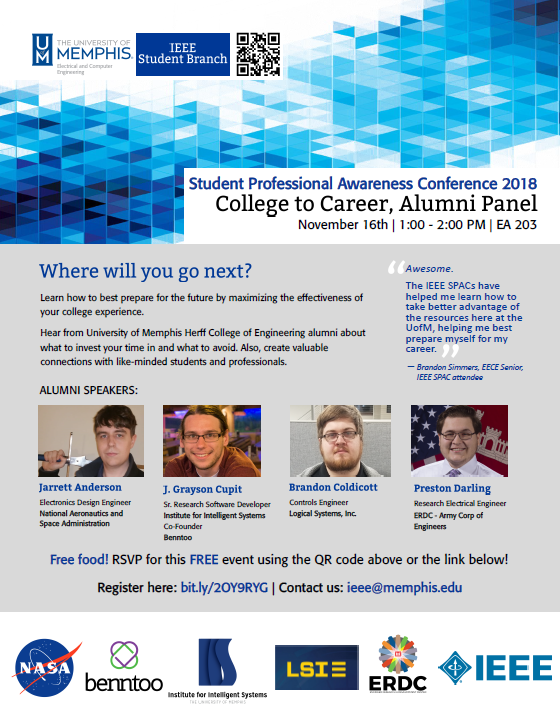 Please
RSVP HERE
.
Prof Kohn will give extra credit for attending this event.
---
Tutoring - Fall 2018
Once again, Herff College is offering free tutoring for students. All tutoring takes place in EA304 (open computer lab).

New this year: On-line tutoring 24/7 via Upswing. This service is provided free of charge in 30 minute increments. You can access the on-line tutoring through the Educational Support Program.


---
Useful videos
Check out THIS YouTube Channel for over 500 fee online lectures and illustrated examples for electro-mechanical technology courses.


---
Banner Upgrade
A major upgrade to Banner, the university's centralized academic and administrative records system, is going live on Sept. 24. Why is this being announced here....so students are aware that their might be disruptions that could affect myMemphis functionality as the transition takes place. For more details, click here


---
Tau Alpha Pi
On Wednesday April 25, this year's new members to National Honor Society for Engineering Technology - Tau Alpha Pi at the University of Memphis were inducted. These students represent the upper 10% of all Engineering Technology Students.

Please join us in congratulating our latest Honorees.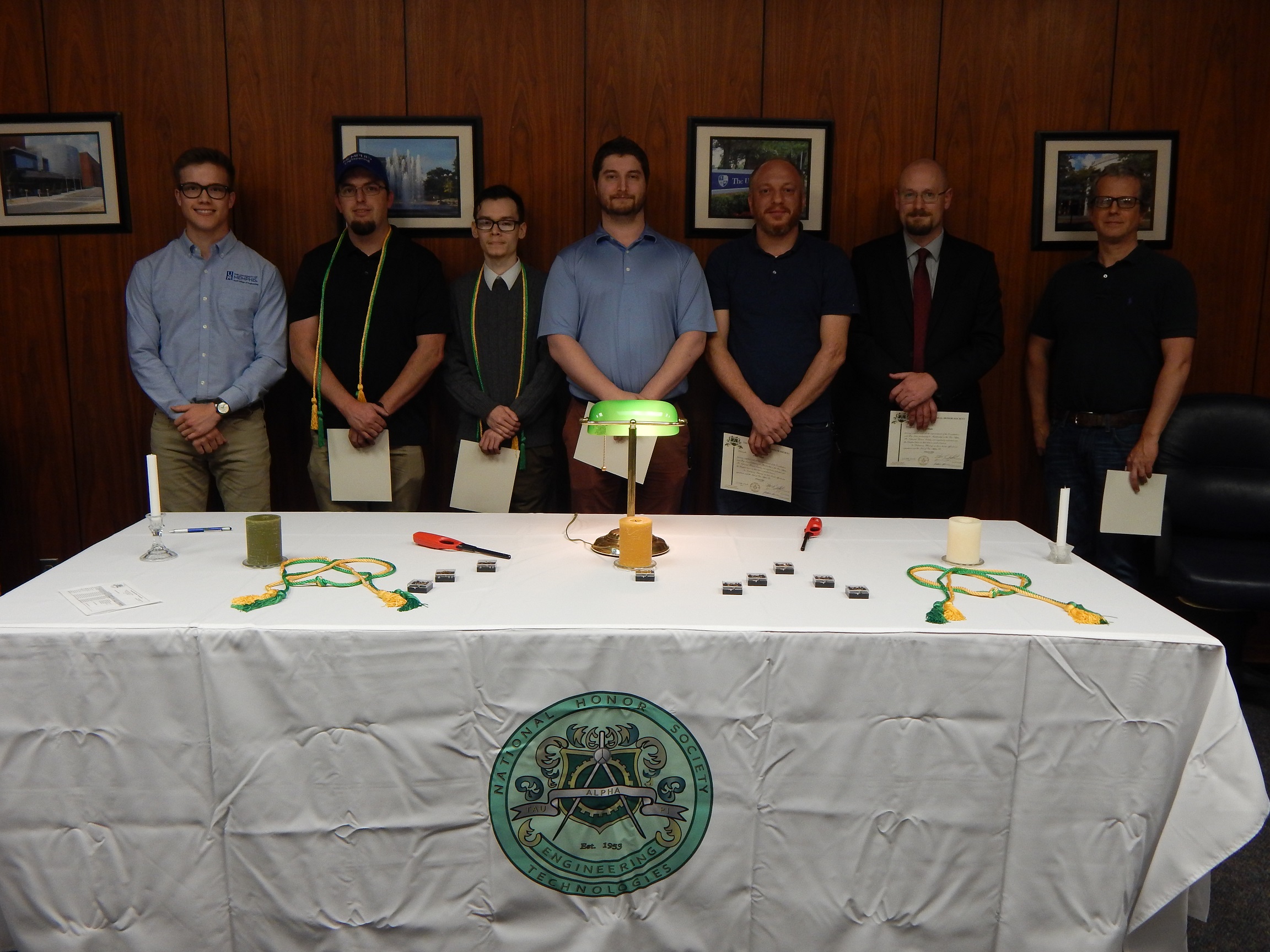 Mick McCarthy, Benjamin Estes, Tony Le, Forrest Russll, Ismaiel Kayali, Joe Williams, Robert Hewitt (Faculty)
(not shown: Benjamin Lawrence, Austin Galloway, Hunter Sarten, Terence Ryan, Hung Dinh, Zachary Hall, Cedric Daniels, Clayton Patton)
---
Outstanding Senior
The Department of Engineering Technology has recognized Benjamin Estes as the Outstanding Senior for 2017-18.

Please join us in congratulating Ben!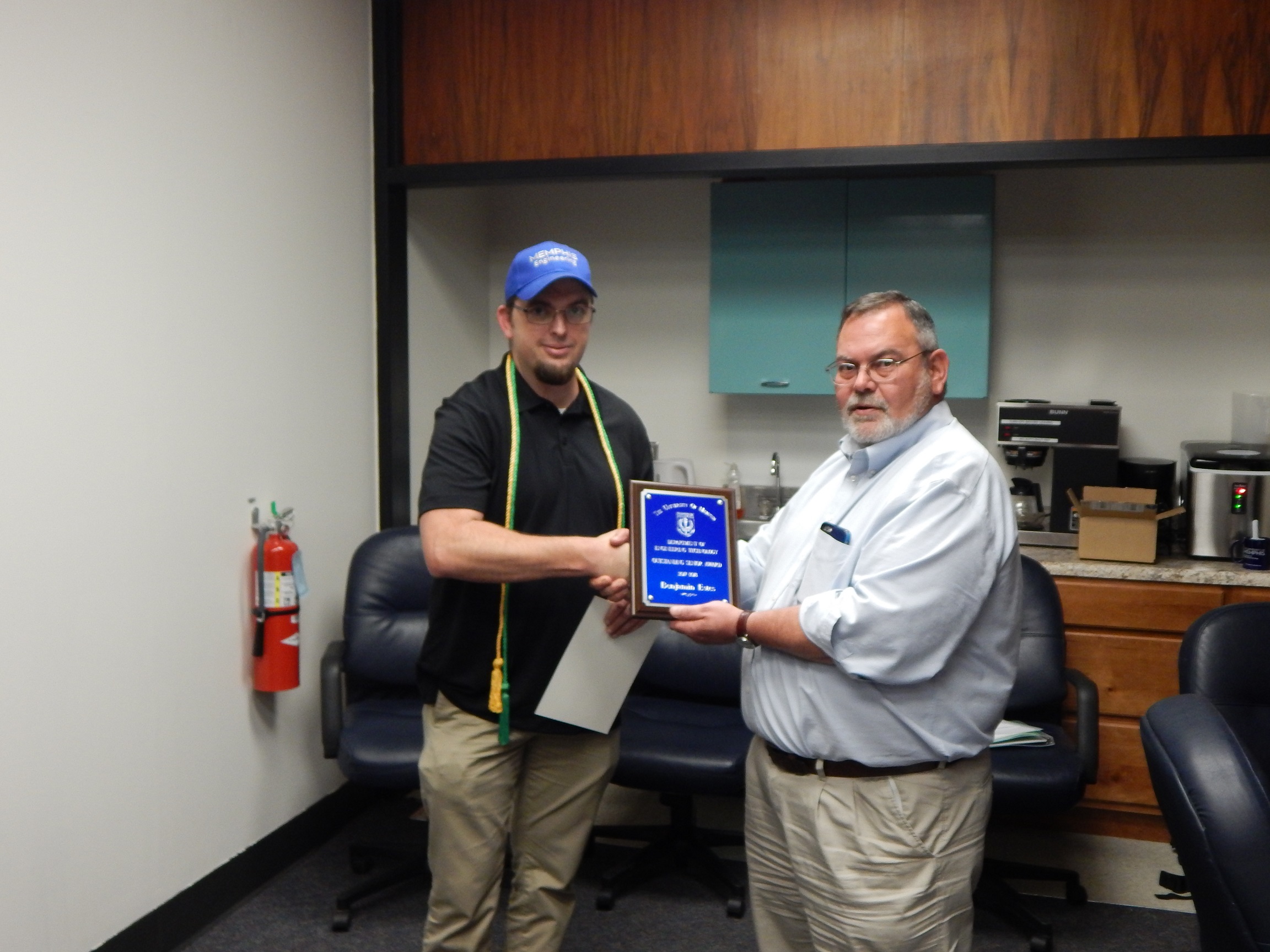 ---
Free Software!
As a UofM Student you have access to Microsoft 356 and OneDrive (cloud storage) from your email account. Login to your email and click on the box in the upper left hand corner of the page to access.

Need something else

The University of Memphis is also participating in Microsoft Imagine. This gives you access to Microsoft Windows Operating Systems (10, Server 2016 and 2012) as well as other programs such as Visual Studio, Project and Visio. Go to Microsoft Imagine HERE and follow the following instructions (thanks to Mick McCarty)

(old instructions - need to test off campus, on campus it goes directly to store)

First goto Microsoft Imagine
Go to "downloads" tab and click "my school webstore"
Type "university of memphis" and click the first pop-up "...-information technology"
Click "on Visit the webstore"
This should give you access to download software (you will have to log in with your UofM Credentials if you are off campus).
Make sure you note the licence key!
MatLab
(new for 2018)
The University of Memphis now has a site licence for MatLab. UofM students are eligible to download and install MatLab products on their personally-owned computers. Goto the
The University of Memphis MATLAB Portal
to download. You can also access free, self-paced training to get started in less than 2 hours:
MATLAB Onramp
.
Autodesk
Autodesk, makers of Autocad and Inventor, gives students their software for free. See
THIS PAGE
for details.
---
Senior Project Equipment
Do you know what you want to do for senior projects but don't have the equipment or money to buy it? I have acquired many items over the years that can be used for EETH and CETH senior projects (see link below).

I also have a number of computers that can be used by students for senior projects in ET227a for your use in case you need software not installed on the image in the computer labs, or you need Linux or another OS.


---