Spring 2017 Class Evaluations
Students, you may now evaluate your Full Session Spring 2017 course instructors. Please take a few moments to do so by following the directions below. The site is now open and will close at Midnight on May 4. Complete your course evaluations (SETE) and see your grades early!

Once your instructor has posted your grade, you can immediately see that grade, PROVIDED you completed a teacher evaluation for that class.

How to access your evaluation forms:

1. Open any internet browser
2. Type in my.memphis.edu and log in using your UUID and email password
3. Click on the gray "Student" tab
4. Complete an evaluation for each course listed and hit the "Submit" button at the bottom of the form

If you have any questions or need assistance in completing the evaluation forms, contact the HelpDesk at 678-8888 or helpdesk.memphis.edu.


---
Professional Etiquette & FE Exam Pointers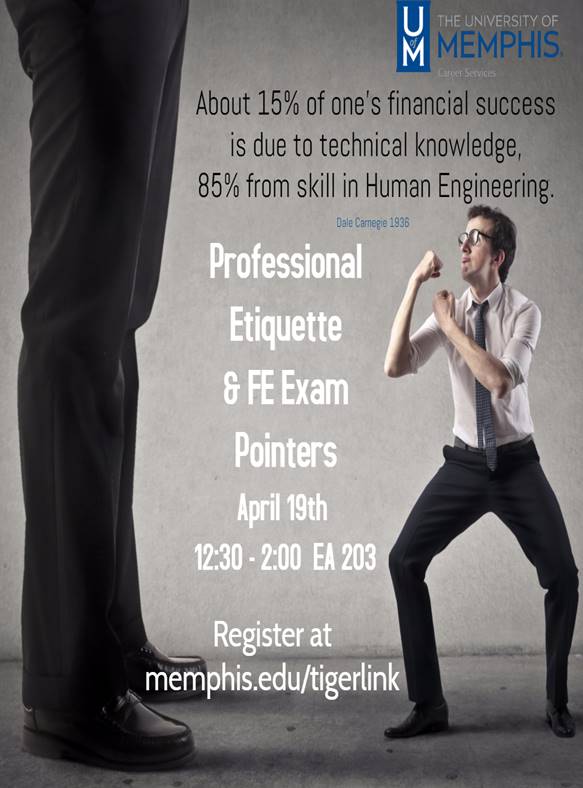 ---
Peer Tutoring - Revised Schedule
Once again Herff College is offering peer tutoring for our undergraduate students.

Attached is the Spring Tutoring schedule for you (click button below). Some notes:

1) Every student will need to swipe their university ID for check-in and check-out at tutoring. Tutoring is still FREE, but this will allow us to see how many students are using the free tutoring and make sure we are providing the best service possible.

2) Tutoring now has a new home. ALL tutoring will take place in ET236. This means the tutors won't be kicked out of the room due to scheduling conflicts. Also, this room is open for anyone to use through out the day for students to study in groups, use computers, and printing.


---
Summer / Fall Advising
It is that time of year again for Advising for the Summer and Fall Semesters. Please make an appointment by:

- goto http://www.memphis.edu/et/

- click "Make an Appointment"

- after logging in, select "Engineering Technology" and "Thomas Banning"


---
UPDATE:
Registration for Summer and Fall 2017 semesters begins on April 3. It is important that you complete your advising session before registration opens.
Advising in Engineering Technology has been underway for several weeks.
DO NOT DELAY! DO IT TODAY!
Scott Southall
---
Tau Alpha Pi
On Friday Dec 9, we inducted one new member to National Honor Society for Engineering Technology - Tau Alpha Pi at the University of Memphis with our induction of this semester's honorees. These students represent the upper 10% of all Engineering Technology Students.

Please join us in congratulating Brennan Toldi as our latest Honoree.


---
Helpful Video Tutorials for Electronics Students
What to learn about Breadboards, soldering or basic electronic components you will be using in Eng Tech? Check out these tutorials from Arrow Electronics.


---
Free Microsoft Software!
The University of Memphis has joined Microsoft's "Student Advantage Program". Students, Faculty and Staff can now obtain the Office suite for their personal devices free of charge. This includes all desktops and mobile devices ( Windows, Mac, iOS, Android).

The program includes free access to Microsoft's OneDrive (cloud storage) with a quota of 1 TB.

Please go to http://Memphis.edu/getoffice and logon using your credentials to install the software.

Need something else

The University of Memphis is also participating in Microsoft DreamSpark. This gives you access to Microsoft Windows Operating Systems (10, 8.1, 8, 7) as well as other programs such as Visual Studio, Project and Visio. Go to DreamSpark HERE and follow the following instructions (thanks to Mick McCarty)


First goto DreamSpark
Go to "downloads" tab and click "my school webstore"
Type "university of memphis" and click the first pop-up "...-information technology"
Click "on Visit the webstore"
This should give you access to download software (you will have to log in with your UofM Credentials if you are off campus).
Make sure you note the licence key!
---
Senior Project Equipment
Do you know what you want to do for senior projects but don't have the equipment or money to buy it? I have acquired many items over the years that can be used for EETH and CETH senior projects (see link below).

I also have a number of computers that can be used by students for senior projects in ET227a for your use in case you need software not installed on the image in the computer labs, or you need Linux or another OS.


---