Extra Credit
Please check the Extra Credit List and report any errors or omissions ASAP. Green highlighed cells indicate you are in more than one of my classes.

This list will be used to calculate the applicable extra credit for Prof Kohn's Classes (keeping in mind the course policy for each class).


---
Computer Lab / Tutoring
For Exams.....The Engineering Tutoring Center on the 3rd floor of Engineering Admin will have expanded hours available now (Nov 29) through study day Dec. 7. Check the schedule in the tutoring center or with your tutor.

Here are the hours of operation for the Engineering Student Service Center (Open Computer Lab / Study Room) EA 3rd floor:


Day
Open
Close
Mon - Thur
8:00am
Midnight
Fri
8:00am
10:00pm
Sat
9:00am
5:00pm
Sun
Closed
Closed
Peer Tutuoring
is also available: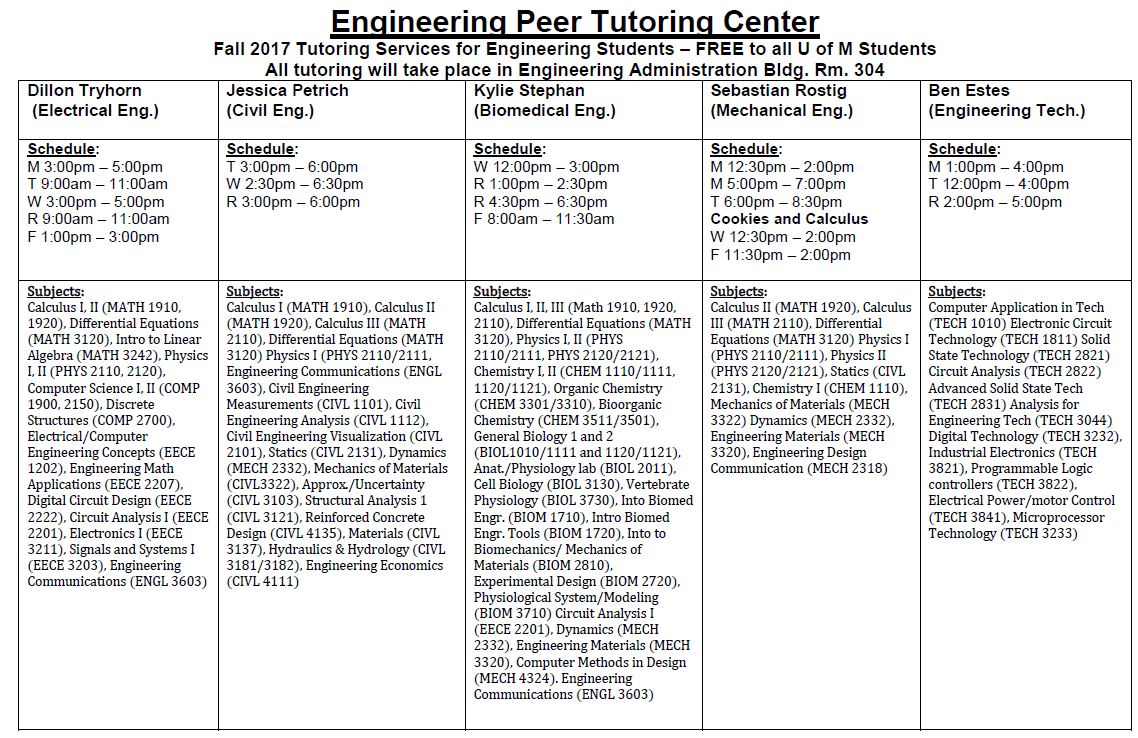 Click image to expand
---
Extra Credit Oportunities
Besides the FLL Field building you should already be aware of, Dr Berisso is in need of students to help him with a cell phone bar code scanner study. If you can spend aprox an hour scanning bar codes, extra credit will be given in my (Prof Kohn's) classes.


---
Tau Alpha Pi
On Friday May 5, this year's new members to National Honor Society for Engineering Technology - Tau Alpha Pi at the University of Memphis were inducted. These students represent the upper 10% of all Engineering Technology Students.

Please join us in congratulating our latest Honorees.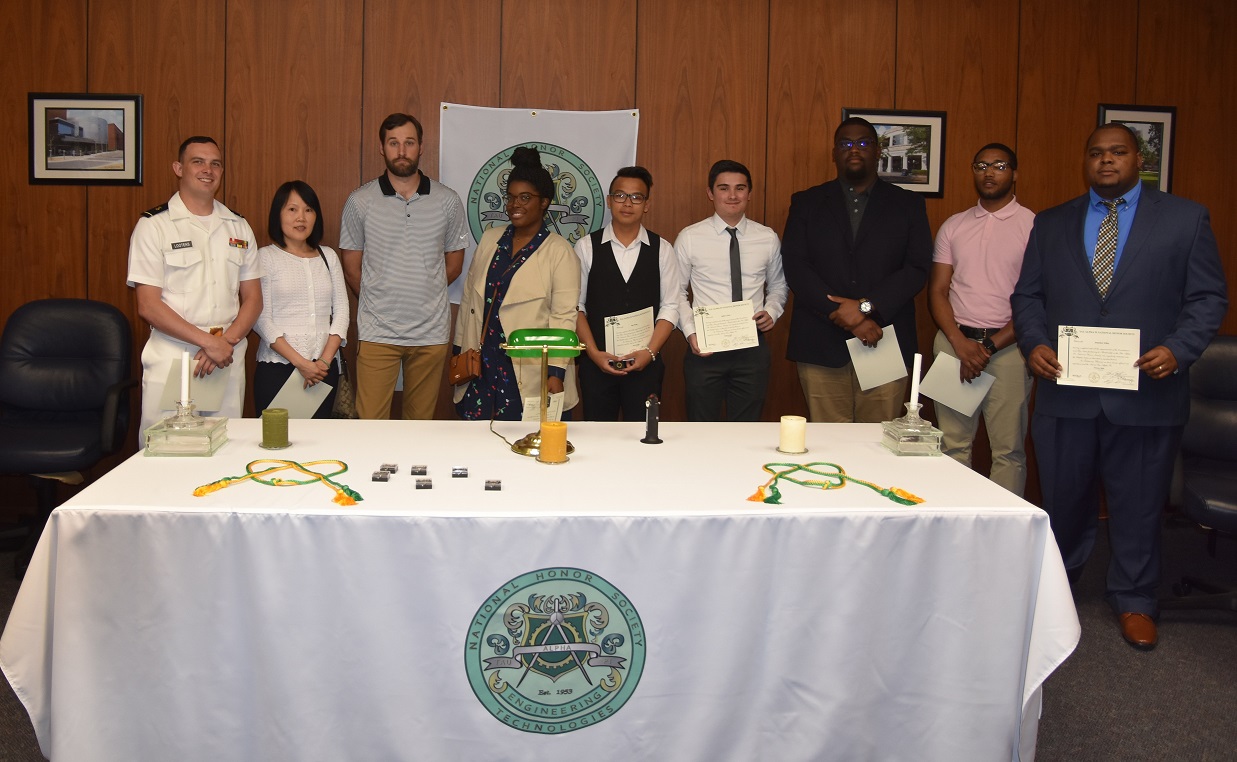 Sam Lootens, Lam-Hong Tran, Tristan Dixon, Ariel Fant, Bao Duong, Robert Litten, Kyler Mitchell, Kaev'En Stamper, Jonathan White
(not shown: Brian Burrage, Connor Stroope, John Martin, Terrica Parker, Tyler Dunaway, Chris Barfield)
---
Free Microsoft Software!
The University of Memphis has joined Microsoft's "Student Advantage Program". Students, Faculty and Staff can now obtain the Office suite for their personal devices free of charge. This includes all desktops and mobile devices ( Windows, Mac, iOS, Android).

The program includes free access to Microsoft's OneDrive (cloud storage) with a quota of 1 TB.

Please go to http://Memphis.edu/getoffice and logon using your credentials to install the software.

Need something else

The University of Memphis is also participating in Microsoft DreamSpark. This gives you access to Microsoft Windows Operating Systems (10, 8.1, 8, 7) as well as other programs such as Visual Studio, Project and Visio. Go to DreamSpark HERE and follow the following instructions (thanks to Mick McCarty)


First goto DreamSpark
Go to "downloads" tab and click "my school webstore"
Type "university of memphis" and click the first pop-up "...-information technology"
Click "on Visit the webstore"
This should give you access to download software (you will have to log in with your UofM Credentials if you are off campus).
Make sure you note the licence key!
---
Senior Project Equipment
Do you know what you want to do for senior projects but don't have the equipment or money to buy it? I have acquired many items over the years that can be used for EETH and CETH senior projects (see link below).

I also have a number of computers that can be used by students for senior projects in ET227a for your use in case you need software not installed on the image in the computer labs, or you need Linux or another OS.


---