Department News
Herff Welcome Week
8-2-21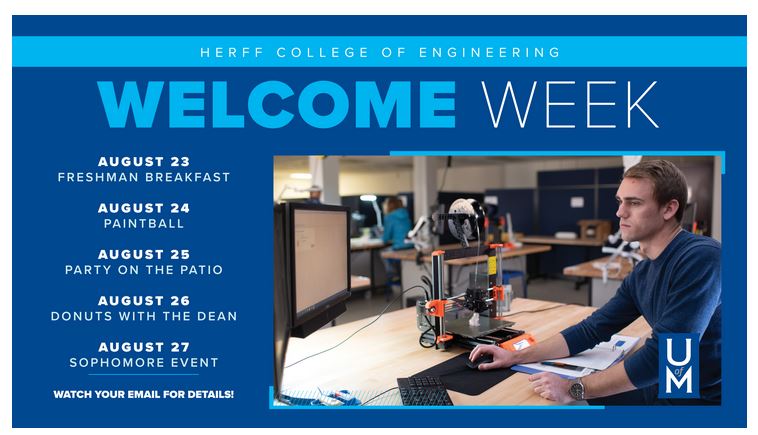 Campus CDC Guidelines Update
7-29-21
From: UofM

The CDC has updated COVID-19 guidance and is recommending that all persons, including fully vaccinated individuals, wear masks indoors in areas of "substantial or high transmission." Accordingly, the University will be requiring that masks be worn by all persons while indoors and in places where maintaining appropriate social distancing is not possible.

Please review and comply with the following safety protocols:

Do not come to campus if you are experiencing symptoms, are in isolation or quarantine due to positive test results or exposure, pending test results, or have reason to believe you have come in contact with the virus. Notify the appropriate offices listed below:
For all faculty and staff-related COVID-19 concerns and notifications, contact Human Resources at hr@memphis.edu or 901.678.3573. This includes exposures, pending test results and/or COVID-19 related symptoms.
For all student-related COVID-19 concerns and notifications, contact the Office of the Dean of Students at deanofstudents@memphis.edu or 901.678.2187.
The University strongly encourages all on our campus to get vaccinated. As a public university in Tennessee, we are not able to require vaccination. That authority rests with the Governor and Tennessee Legislature. We will continue to provide access to vaccinations on campus through our partnership with the Baptist Medical Group. The next on-campus vaccine event is scheduled for August, 12, from 9:30 a.m. - 4 p.m. in the Rose Theatre Lobby. Pre-registration is preferred (register here), but not required.

As we have demonstrated for the past year and a half, we can work together to keep our campus and our community safe.

For the latest COVID-19 updates from the University of Memphis and vaccine information, visit memphis.edu/coronavirusupdates.


The Importance of Vaccinations
7-29-21
From: Office of the President (email 7/26/21)

As our country, state and city struggle with the re-emergence of the latest variant of COVID-19, it has never been more important, if you have not already, to get vaccinated. The latest scientific data clearly indicates that 97% or more of those struggling with serious illness and hospitalization are those without vaccinations. Given the risks of serious illness and death, let me offer my strongest possible encouragement for vaccination.

As a public university in Tennessee, we cannot require the COVID-19 vaccination, but for your own individual safety and for that of all of those around you and in our community, I encourage you to get vaccinated. We will continue to monitor the situation in the coming weeks and will modify health protocols (e.g., mandatory masking on campus) based on available data and outcomes for our local community and campus.

Regards,

M. David Rudd, Ph.D., ABPP


New Yaskawa Robots Delivered
Herff College Career Fair
7-13-21 (Updated 7/29/21)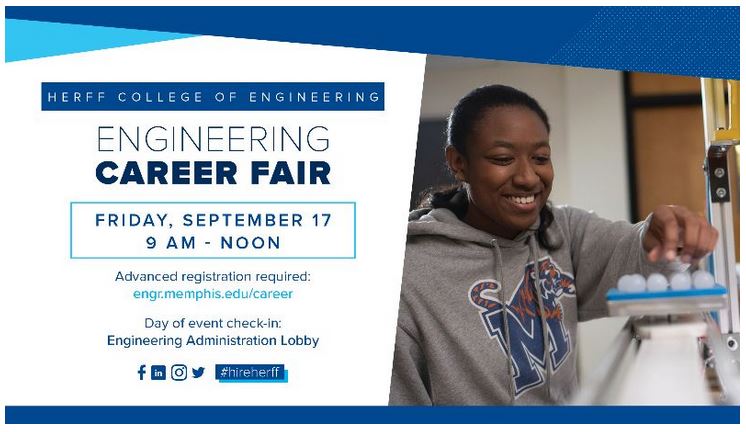 More information available at: https://www.memphis.edu/herff/students/career.php

Please Register HERE


eCourseware - Changes Coming
7-7-21
from: UofM Office of the Provost

The current license for our Learning Management System (LMS), eCourseware (D2L), expires December 31, 2021. Accordingly, the University of Memphis has decided to make the transition from D2L to Canvas by Instructure as our official LMS on January 1, 2022. The change is being made after careful study and clear, overwhelming support from faculty. Canvas was the preferred LMS by the vast majority of our 41 faculty and staff evaluators in 2020. As the LMS market leader in North American higher education, Canvas will be a valuable service for all modalities of instruction, including on-ground and online classes.

Please view the UofM Canvas LMS Transition 2022 webpage to learn more about reasons for this change and the timeline for course migration and training.


ITS Upgrade to Identity Management
6-27-21
from: UofM CIO

On July 12, Information Technology Services will implement an upgrade to our identity management system (iAM) that will enhance the "reset password" functionality by allowing a validation code to be sent to a personal email account.

In order to utilize this functionality, individuals must have a personal email address (not a memphis.edu address) on file. In addition to receiving the validation code via a personal email address, individuals may continue to use the security questions. More information about this enhancement to the UofM password reset process, as well as instructions on how to register your personal email account, is located here.


Tau Alpha Pi
4-29-2021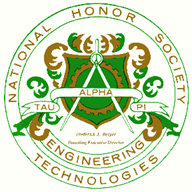 Although we could not hold our normal Induction Ceremony due to the Covid-19 Pandemic, we are proud to announce this year's Tau Alpha Pi Engineering Technology Honor Society's Inductees:

Mason Gallaher, Jed Porter, Jacob Hayden, Andrew Burney, Joshua Cole, Carlos Villegas, Andrew Sichting, Jeremy Lamont, Carson White and Thierno Diallo.

These students represent the upper 10% of all Engineering Technology Students.

Please join us in congratulating our latest Honorees.