Department News
IEEE News
9-25-2019


Mark your calendar for October 18 for our rescheduled soldering workshop! This workshop is open to all students, regardless of major. We will be giving away a limited supply of soldering iron kits!

IEEE September / October Schedule

Friday, September 27: We will not host a normal Friday workshop. Enjoy the weekend!

Friday, October 4 (1pm): PCB Workshop. Learn how to design your own circuit board while eating free food. One lucky winner will receive a gift certificate to order your PCB design!

Friday, October 11 (2pm): Mitsubishi Electric Power Products TOUR! Meet in the Engineering Parking Lot at 1:30 to carpool. Register here today! You don't want to miss it.

Friday, October 18 (1pm): Soldering Workshop

Halloween Project Contest
Can you build a blinking pumpkin? How about a motion activated sound effects trigger? Or an automated candy dispenser? The sky's the limit with our Halloween Project Contest.

Details: Submission window will open Oct 25 and will close Nov 2. Simply upload a short video and any code to be entered for the grand prize.


Decommission of umDrive
8-31-2019
Information Technology Services (ITS) has been notified by the vendor that support for our umDrive platform will be discontinued effective Dec. 31, 2019. ITS has identified alternative services and prepared a plan to move data from umDrive that will cause as little disruption as possible.

umDrive will remain fully functional for fall 2019. Local Support Providers (LSPs) have been trained to assist with moving data to alternate spaces with similar or exact services as umDrive. You can find details on what services are available for storage, collaboration and publication at this website.

We understand this change is inconvenient, and we are committed to easing the discomfort as much as we can. For assistance with umDrive issues, please contact the Service Desk by calling 901.678.8888, emailing umtech@memphis.edu or visiting helpdesk.memphis.edu.

Original (Official) Announcment


---
So what does this mean for you:

If you have stuff you want to keep that is currently on umDrive, you need to make a backup of it before the end of the fall term. (see website for instructions).

Faculty who use umDrive for various reasons will be changing to something diferent next term, so expect new instructions for getting content and submitting assignments if your instructor has traditionally used umDrive in the past and expect some technical issues at the start of the spring term.


E-Day
8-16-2019
E-Day (Herff College Open House) will be held on Oct 25, 2019. Full competition rules and registration will be available HERE on Sep 3, 2019.

Engineering Tech Students: Check with your Professors to see if you class will be doing demonstrations, your class will not be meeting and/or extra credit opportunities are available for helping.


Tau Alpha Pi
4-29-2019
On Friday April 26, this year's new members to National Honor Society for Engineering Technology - Tau Alpha Pi at the University of Memphis were inducted. These students represent the upper 10% of all Engineering Technology Students.

Please join us in congratulating our latest Honorees.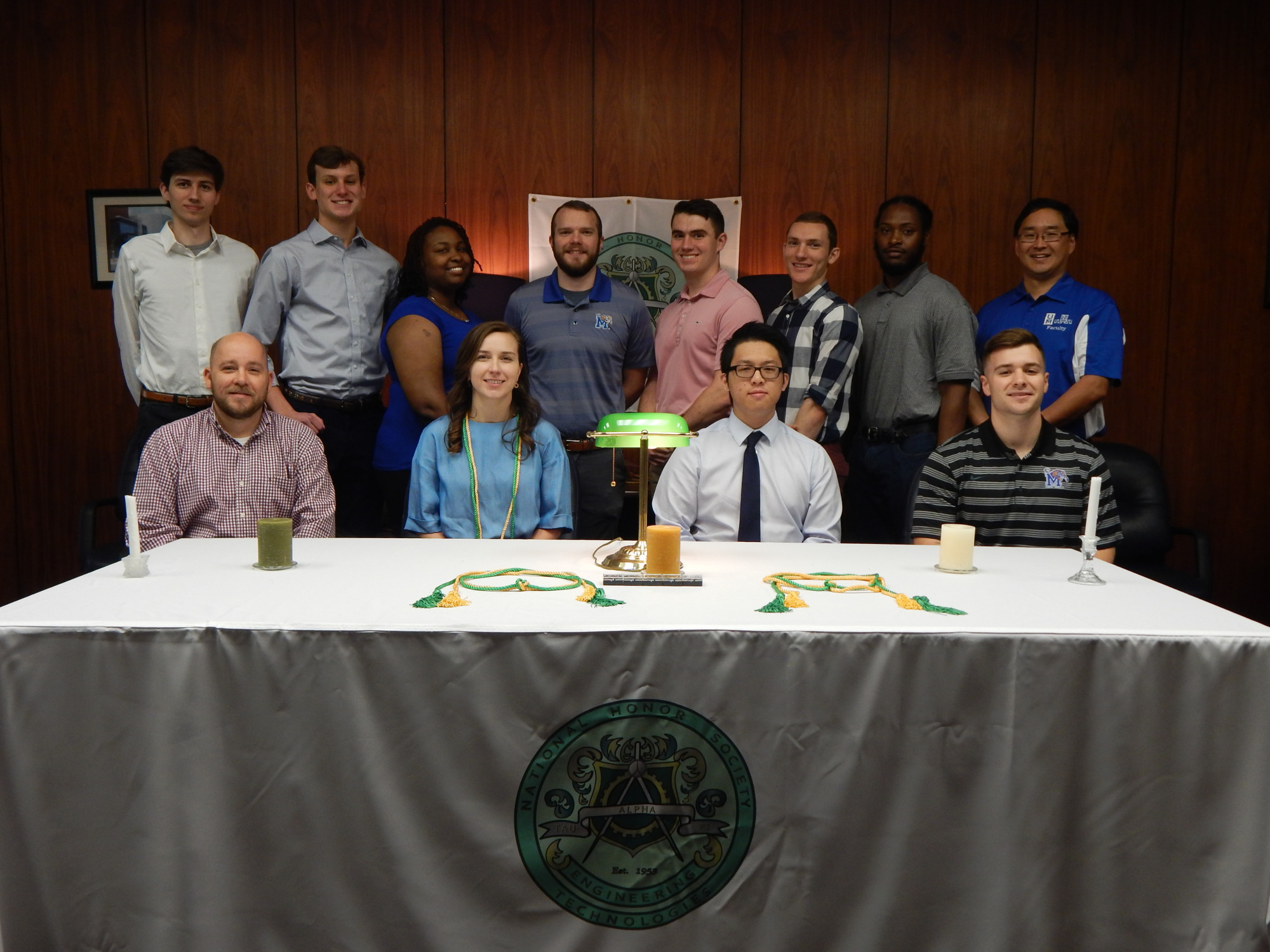 Back row: Lucas Rivers, Austin Gatlin, Ashely Woodall, Micah Zywicki, Austin Stone, Zach Artz, Dwight Newsome, Dr. Kevin Berisso
Front row: Brian McNabb, Amber Libby, Wen Xue, Austin Tuohy
not shown: Nicholas Chaney, Juan Torres Gomez, Uriel Rodriguez, Christopher Gray and Christopher Harrison)