Separate hardware components, such as dividers and floating point units (FPUs), sometimes in the form of arithmetic coprocessors (fastest)

Inputs and outputs
The ALU takes as input the data to be operated on (called operands) and a code from the control unit indicating which operation to perform. The output is the result of the computation.

In many designs the ALU also takes/generates as inputs/outputs a set of condition codes from/to a status register; typically these codes are used to indicate cases such as carry-in or carry-out, overflow, divide-by-zero, etc.


---
Truth Table
Click on image to enlarge / print

Note: Since this is a TRUTH TABLE, all symbols are BOOLEAN Operators, Arithmetic operators are spelled out (e.g. PLUS is addition, + is OR)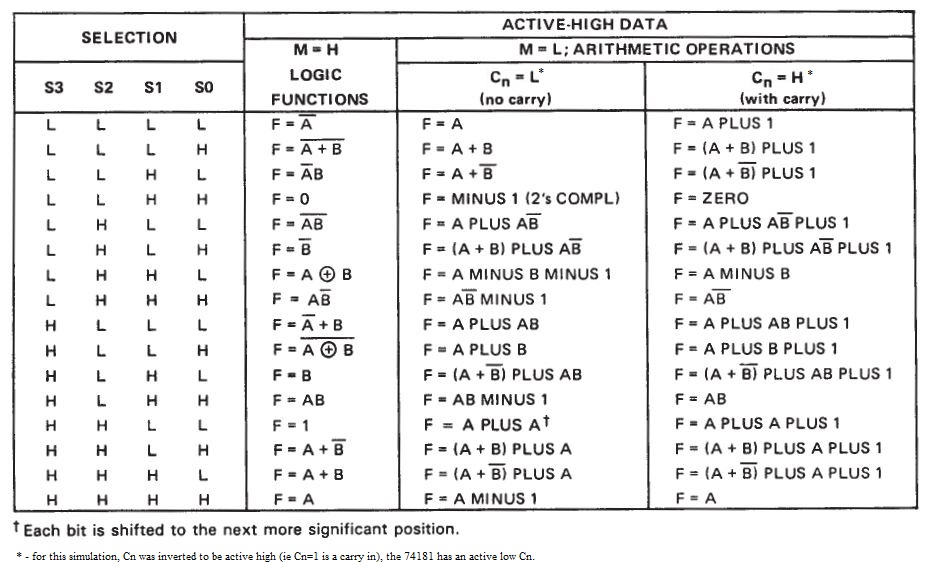 ---
{ "width":1400, "height":800, "showToolbox":false, "toolbox":[ {"type":"In"}, {"type":"Out"}, {"type":"Joint"}, {"type":"DC"}, {"type":"LED"}, {"type":"PushOff"}, {"type":"PushOn"}, {"type":"Toggle"}, {"type":"BUF"}, {"type":"NOT"}, {"type":"AND"}, {"type":"AND","numInputs":3}, {"type":"AND","numInputs":4}, {"type":"NAND"}, {"type":"OR"}, {"type":"OR","numInputs":3}, {"type":"OR","numInputs":4}, {"type":"OR","numInputs":8}, {"type":"NOR"}, {"type":"EOR"}, {"type":"ENOR"}, {"type":"OSC"}, {"type":"7seg"}, {"type":"16seg"}, {"type":"4bit7seg"}, {"type":"RotaryEncoder"}, {"type":"BusIn"}, {"type":"BusOut"}, {"type":"RS-FF"}, {"type":"JK-FF"}, {"type":"T-FF"}, {"type":"D-FF"}, {"type":"8bitCounter"}, {"type":"HalfAdder"}, {"type":"FullAdder"}, {"type":"4bitAdder"}, {"type":"2to4BinaryDecoder"}, {"type":"3to8BinaryDecoder"}, {"type":"4to16BinaryDecoder"}, {"type":"DSO"}, {"type":"Delay"}, {"type":"Transmitter"}, {"type":"74181"}, {"type":"8_input_OR"} ], "devices":[ {"type":"74181","id":"dev0","x":888,"y":104,"label":"74181"}, {"type":"DC","id":"dev1","x":168,"y":8,"label":"DC"}, {"type":"Joint","id":"dev2","x":232,"y":16,"label":"Joint","state":{"direction":0}}, {"type":"Joint","id":"dev3","x":424,"y":16,"label":"Joint","state":{"direction":0}}, {"type":"Joint","id":"dev4","x":360,"y":16,"label":"Joint","state":{"direction":0}}, {"type":"Joint","id":"dev5","x":296,"y":16,"label":"Joint","state":{"direction":0}}, {"type":"Joint","id":"dev6","x":280,"y":104,"label":"Joint","state":{"direction":0}}, {"type":"Joint","id":"dev7","x":344,"y":120,"label":"Joint","state":{"direction":0}}, {"type":"Joint","id":"dev8","x":408,"y":136,"label":"Joint","state":{"direction":0}}, {"type":"Joint","id":"dev9","x":472,"y":152,"label":"Joint","state":{"direction":0}}, {"type":"Toggle","id":"dev10","x":248,"y":48,"label":"S3","state":{"on":false}}, {"type":"Toggle","id":"dev11","x":312,"y":48,"label":"S2","state":{"on":false}}, {"type":"Toggle","id":"dev12","x":376,"y":48,"label":"S1","state":{"on":false}}, {"type":"Toggle","id":"dev13","x":440,"y":48,"label":"S0","state":{"on":false}}, {"type":"DC","id":"dev14","x":160,"y":232,"label":"DC"}, {"type":"Joint","id":"dev15","x":232,"y":240,"label":"Joint","state":{"direction":0}}, {"type":"Joint","id":"dev16","x":296,"y":240,"label":"Joint","state":{"direction":0}}, {"type":"Joint","id":"dev17","x":360,"y":240,"label":"Joint","state":{"direction":0}}, {"type":"Joint","id":"dev18","x":424,"y":240,"label":"Joint","state":{"direction":0}}, {"type":"Joint","id":"dev19","x":280,"y":168,"label":"Joint","state":{"direction":0}}, {"type":"Joint","id":"dev20","x":344,"y":184,"label":"Joint","state":{"direction":0}}, {"type":"Joint","id":"dev21","x":408,"y":200,"label":"Joint","state":{"direction":0}}, {"type":"Joint","id":"dev22","x":472,"y":216,"label":"Joint","state":{"direction":0}}, {"type":"Toggle","id":"dev23","x":248,"y":272,"label":"B3","state":{"on":false}}, {"type":"Toggle","id":"dev24","x":312,"y":272,"label":"B2","state":{"on":false}}, {"type":"Toggle","id":"dev25","x":376,"y":272,"label":"B1","state":{"on":false}}, {"type":"Toggle","id":"dev26","x":440,"y":272,"label":"B0","state":{"on":false}}, {"type":"Joint","id":"dev27","x":680,"y":232,"label":"Joint","state":{"direction":0}}, {"type":"Joint","id":"dev28","x":696,"y":248,"label":"Joint","state":{"direction":0}}, {"type":"Joint","id":"dev29","x":720,"y":264,"label":"Joint","state":{"direction":0}}, {"type":"Joint","id":"dev30","x":744,"y":280,"label":"Joint","state":{"direction":0}}, {"type":"Joint","id":"dev31","x":728,"y":408,"label":"Joint","state":{"direction":0}}, {"type":"DC","id":"dev32","x":160,"y":464,"label":"DC"}, {"type":"Toggle","id":"dev33","x":440,"y":504,"label":"A0","state":{"on":false}}, {"type":"Toggle","id":"dev34","x":376,"y":504,"label":"A1","state":{"on":false}}, {"type":"Toggle","id":"dev35","x":312,"y":504,"label":"A2","state":{"on":false}}, {"type":"Toggle","id":"dev36","x":248,"y":504,"label":"A3","state":{"on":false}}, {"type":"Joint","id":"dev37","x":472,"y":408,"label":"Joint","state":{"direction":0}}, {"type":"Joint","id":"dev38","x":704,"y":392,"label":"Joint","state":{"direction":0}}, {"type":"Joint","id":"dev39","x":408,"y":392,"label":"Joint","state":{"direction":0}}, {"type":"Joint","id":"dev40","x":680,"y":376,"label":"Joint","state":{"direction":0}}, {"type":"Joint","id":"dev41","x":344,"y":376,"label":"Joint","state":{"direction":0}}, {"type":"Joint","id":"dev42","x":664,"y":360,"label":"Joint","state":{"direction":0}}, {"type":"Joint","id":"dev43","x":280,"y":360,"label":"Joint","state":{"direction":0}}, {"type":"Joint","id":"dev44","x":296,"y":472,"label":"Joint","state":{"direction":0}}, {"type":"Joint","id":"dev45","x":232,"y":472,"label":"Joint","state":{"direction":0}}, {"type":"Joint","id":"dev46","x":360,"y":472,"label":"Joint","state":{"direction":0}}, {"type":"Joint","id":"dev47","x":424,"y":472,"label":"Joint","state":{"direction":0}}, {"type":"DC","id":"dev48","x":160,"y":616,"label":"DC"}, {"type":"DC","id":"dev49","x":160,"y":696,"label":"DC"}, {"type":"Toggle","id":"dev50","x":248,"y":616,"label":"M","state":{"on":false}}, {"type":"Toggle","id":"dev51","x":248,"y":696,"label":"Cn","state":{"on":false}}, {"type":"NOT","id":"dev52","x":344,"y":696,"label":"NOT"}, {"type":"Joint","id":"dev53","x":856,"y":312,"label":"Joint","state":{"direction":0}}, {"type":"Joint","id":"dev54","x":824,"y":296,"label":"Joint","state":{"direction":0}}, {"type":"Joint","id":"dev55","x":840,"y":704,"label":"Joint","state":{"direction":0}}, {"type":"Joint","id":"dev56","x":808,"y":624,"label":"Joint","state":{"direction":0}}, {"type":"LED","id":"dev57","x":1152,"y":408,"label":"A=B"}, {"type":"Joint","id":"dev58","x":976,"y":152,"label":"Joint","state":{"direction":0}}, {"type":"Joint","id":"dev59","x":992,"y":80,"label":"Joint","state":{"direction":0}}, {"type":"LED","id":"dev60","x":1144,"y":72,"label":"X"}, {"type":"LED","id":"dev61","x":1144,"y":120,"label":"Y"}, {"type":"Joint","id":"dev62","x":1016,"y":128,"label":"Joint","state":{"direction":0}}, {"type":"Joint","id":"dev63","x":1000,"y":168,"label":"Joint","state":{"direction":0}}, {"type":"LED","id":"dev64","x":1144,"y":176,"label":"Cn+4"}, {"type":"4bit7seg","id":"dev65","x":1144,"y":232,"label":"F"}, {"type":"Joint","id":"dev66","x":1040,"y":232,"label":"Joint","state":{"direction":0}}, {"type":"Joint","id":"dev67","x":1024,"y":248,"label":"Joint","state":{"direction":0}}, {"type":"Joint","id":"dev68","x":984,"y":232,"label":"Joint","state":{"direction":0}}, {"type":"Joint","id":"dev69","x":1000,"y":264,"label":"Joint","state":{"direction":0}}, {"type":"Joint","id":"dev70","x":1048,"y":264,"label":"Joint","state":{"direction":0}}, {"type":"Joint","id":"dev71","x":1064,"y":248,"label":"Joint","state":{"direction":0}}, {"type":"Joint","id":"dev72","x":1096,"y":264,"label":"Joint","state":{"direction":0}}, {"type":"Joint","id":"dev73","x":1080,"y":216,"label":"Joint","state":{"direction":0}}, {"type":"Joint","id":"dev74","x":1112,"y":280,"label":"Joint","state":{"direction":0}}, {"type":"Joint","id":"dev75","x":1096,"y":200,"label":"Joint","state":{"direction":0}}, {"type":"Joint","id":"dev76","x":968,"y":264,"label":"Joint","state":{"direction":0}}, {"type":"Joint","id":"dev77","x":984,"y":416,"label":"Joint","state":{"direction":0}}, {"type":"NOT","id":"dev78","x":1040,"y":176,"label":"NOT"} ], "connectors":[ {"from":"dev0.in0","to":"dev6.out0"}, {"from":"dev0.in1","to":"dev7.out0"}, {"from":"dev0.in2","to":"dev8.out0"}, {"from":"dev0.in3","to":"dev9.out0"}, {"from":"dev0.in4","to":"dev19.out0"}, {"from":"dev0.in5","to":"dev20.out0"}, {"from":"dev0.in6","to":"dev21.out0"}, {"from":"dev0.in7","to":"dev22.out0"}, {"from":"dev0.in8","to":"dev27.out0"}, {"from":"dev0.in9","to":"dev28.out0"}, {"from":"dev0.in10","to":"dev29.out0"}, {"from":"dev0.in11","to":"dev30.out0"}, {"from":"dev0.in12","to":"dev54.out0"}, {"from":"dev0.in13","to":"dev53.out0"}, {"from":"dev2.in0","to":"dev1.out0"}, {"from":"dev3.in0","to":"dev4.out0"}, {"from":"dev4.in0","to":"dev5.out0"}, {"from":"dev5.in0","to":"dev2.out0"}, {"from":"dev6.in0","to":"dev10.out0"}, {"from":"dev7.in0","to":"dev11.out0"}, {"from":"dev8.in0","to":"dev12.out0"}, {"from":"dev9.in0","to":"dev13.out0"}, {"from":"dev10.in0","to":"dev2.out0"}, {"from":"dev11.in0","to":"dev5.out0"}, {"from":"dev12.in0","to":"dev4.out0"}, {"from":"dev13.in0","to":"dev3.out0"}, {"from":"dev15.in0","to":"dev14.out0"}, {"from":"dev16.in0","to":"dev15.out0"}, {"from":"dev17.in0","to":"dev16.out0"}, {"from":"dev18.in0","to":"dev17.out0"}, {"from":"dev19.in0","to":"dev23.out0"}, {"from":"dev20.in0","to":"dev24.out0"}, {"from":"dev21.in0","to":"dev25.out0"}, {"from":"dev22.in0","to":"dev26.out0"}, {"from":"dev23.in0","to":"dev15.out0"}, {"from":"dev24.in0","to":"dev16.out0"}, {"from":"dev25.in0","to":"dev17.out0"}, {"from":"dev26.in0","to":"dev18.out0"}, {"from":"dev27.in0","to":"dev42.out0"}, {"from":"dev28.in0","to":"dev40.out0"}, {"from":"dev29.in0","to":"dev38.out0"}, {"from":"dev30.in0","to":"dev31.out0"}, {"from":"dev31.in0","to":"dev37.out0"}, {"from":"dev33.in0","to":"dev47.out0"}, {"from":"dev34.in0","to":"dev46.out0"}, {"from":"dev35.in0","to":"dev44.out0"}, {"from":"dev36.in0","to":"dev45.out0"}, {"from":"dev37.in0","to":"dev33.out0"}, {"from":"dev38.in0","to":"dev39.out0"}, {"from":"dev39.in0","to":"dev34.out0"}, {"from":"dev40.in0","to":"dev41.out0"}, {"from":"dev41.in0","to":"dev35.out0"}, {"from":"dev42.in0","to":"dev43.out0"}, {"from":"dev43.in0","to":"dev36.out0"}, {"from":"dev44.in0","to":"dev45.out0"}, {"from":"dev45.in0","to":"dev32.out0"}, {"from":"dev46.in0","to":"dev44.out0"}, {"from":"dev47.in0","to":"dev46.out0"}, {"from":"dev50.in0","to":"dev48.out0"}, {"from":"dev51.in0","to":"dev49.out0"}, {"from":"dev52.in0","to":"dev51.out0"}, {"from":"dev53.in0","to":"dev55.out0"}, {"from":"dev54.in0","to":"dev56.out0"}, {"from":"dev55.in0","to":"dev52.out0"}, {"from":"dev56.in0","to":"dev50.out0"}, {"from":"dev57.in0","to":"dev77.out0"}, {"from":"dev58.in0","to":"dev0.out0"}, {"from":"dev59.in0","to":"dev58.out0"}, {"from":"dev60.in0","to":"dev59.out0"}, {"from":"dev61.in0","to":"dev62.out0"}, {"from":"dev62.in0","to":"dev63.out0"}, {"from":"dev63.in0","to":"dev0.out1"}, {"from":"dev64.in0","to":"dev78.out0"}, {"from":"dev65.in0","to":"dev66.out0"}, {"from":"dev65.in1","to":"dev71.out0"}, {"from":"dev65.in2","to":"dev72.out0"}, {"from":"dev65.in3","to":"dev74.out0"}, {"from":"dev66.in0","to":"dev67.out0"}, {"from":"dev67.in0","to":"dev0.out6"}, {"from":"dev68.in0","to":"dev0.out5"}, {"from":"dev69.in0","to":"dev68.out0"}, {"from":"dev70.in0","to":"dev69.out0"}, {"from":"dev71.in0","to":"dev70.out0"}, {"from":"dev72.in0","to":"dev73.out0"}, {"from":"dev73.in0","to":"dev0.out4"}, {"from":"dev74.in0","to":"dev75.out0"}, {"from":"dev75.in0","to":"dev0.out3"}, {"from":"dev76.in0","to":"dev0.out7"}, {"from":"dev77.in0","to":"dev76.out0"}, {"from":"dev78.in0","to":"dev0.out2"} ] }